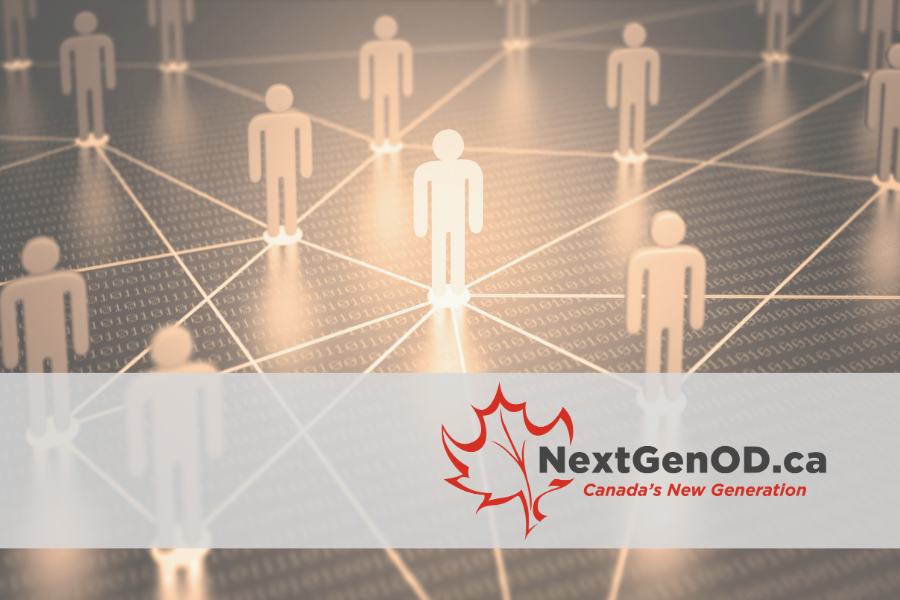 In March 2023, the inaugural hybrid event by NextGEN OD, entitled "Opportunities & Options for New Optometrists," surpassed expectations in both engagement and impact. Not only did the unique event attract a high turnout, it offered an opportunity to hear and learn from the experiences of recent optometry graduates and network with Canadian optometry students from diverse schools across North America. Given the geographical challenges, this opportunity was especially meaningful.
Driven by Success: Introducing the Student Ambassador Program
Motivated by this strong reception and recognizing the clear demand for more interconnectedness, NextGEN OD is excited to launch its Canadian Student Ambassador Program.
This initiative seeks to further unite students and the industry, thereby making the NextGEN OD community increasingly relevant and accessible to Canadian optometry students, regardless of their study location.
Nyah Miranda and Dr. Jenny Lee, OD, co-hosts of "Opportunities & Options," are at the helm of this new Student Ambassador program.
Nyah, a second-year student and 2026 candidate at NECO, takes charge of all social media aspects as Digital Communications Associate. Meanwhile, Dr. Jenny Lee, a recent graduate currently in-residence training for Vision Therapy and Neuro Optometry (University of Waterloo), serves as the CRO (Clinical & Refractive Optometry) liaison.  CRO aligns closely with the new Student Ambassador program benefits.
Why NextGEN OD?
While the Canadian optometry student community may be relatively small in numbers, its potential for impact is substantial. NextGEN OD aims to enhance this community by offering invaluable resources and connections that pave the way for thriving careers. Whether studying locally or internationally, this program has you covered.
The Tangible Benefits: Why You Should Sign Up
This program grants student ambassadors a range of exclusive perks, such as:
A free CRO Journal subscription
Complimentary CRO Student Membership with quiz access
Compensation opportunities during special NextGEN events
Free CRO membership after graduation
Opportunities for publication in eyecare media, paving the way to become a peer influencer
Meet the Trailblazers
We've already enlisted a pioneering cohort of exceptional optometry students poised to make an impact in their roles as NextGEN OD Student Ambassadors. These trailblazers have set a high standard, and now the doors are now open for you to join this esteemed group.

How to Engage: Seize the Opportunity
Eager to contribute to NextGEN OD's mission and join this groundbreaking initiative? Applications for the academic year starting September 2023, are now open. To apply and learn more, visit the NextGEN OD Student Ambassador Landing Page.
Your Next Move: Apply Now
Don't let this opportunity slip by. Apply today and become a driving force in shaping the future of  the initiative.
About Eye Care Business Canada/Next GEN OD
Eye Care Business Canada (ECBC) and NextGEN OD are sponsors of  CAOS (Canadian Association of Optometry Students) for the academic year 2022-23.
About Eye Care Business Canada and NextGEN OD
Eye Care Business Canada, and NextGEN OD, are committed to empowering Eye Care Professionals and aspiring optometrists. In collaboration with our sponsors, we deliver insights across a range of topics including practice marketing, financial well-being, leadership, and self-development. Additionally, through the NextGEN OD Student Ambassador program, we offer Canadian optometry students a unique platform for networking and professional growth opportunities.
We welcome reader engagement through article ratings and comments on our website. Upholding an open approach, we are impartial toward potential sponsors who wish to engage responsibly with our diverse audience.  ECBC and NextGen OD, and CRO (Clinical & Refractive Optometry) are divisions of VuePoint IDS.