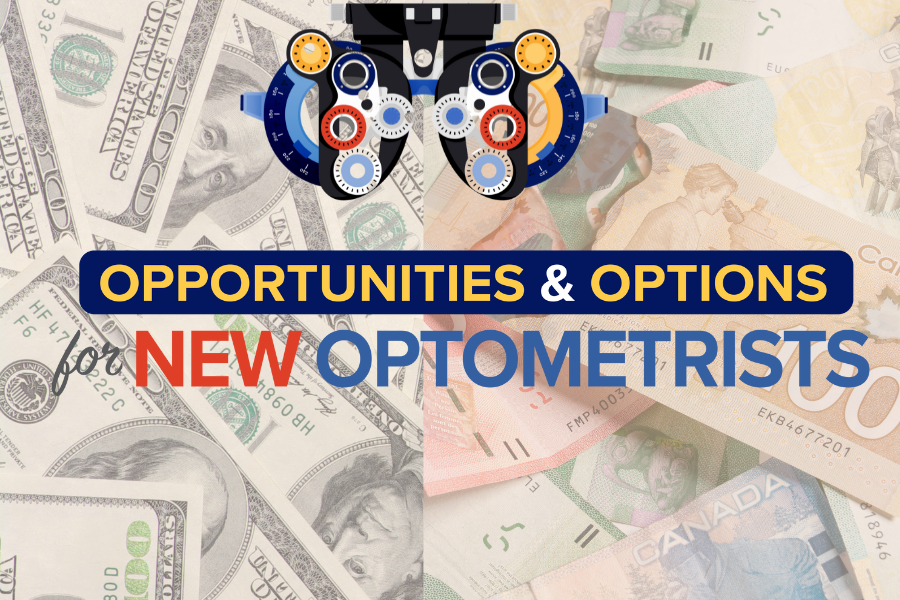 The following subject matter is usually not discussed in an open forum, but is essential information for NextGEN Optometrists looking to land their first practice experience. Dr. Michael Naugle, VP of Optometric Partnerships FYidoctors, addressed attendees of the "Opportunities & Options for New Optometrists" event March 29.
The hybrid event reached over 150 attendees, including a live audience at University of Waterloo and online webinar participants.
While Dr. Naugle emphasized the importance of matching personal values and clinical interests with prospective practice opportunities, he noted that compensation is an important factor that can vary considerably in different situations.
USA vs. Canada | Rural vs. Urban
Dr. Naugle addressed the realities of how the geographic setting of a practice could impact OD compensation. He covered the expected differences in net earnings for optometrists in USA versus Canada. He explained how the different compensation models generate the perception that OD incomes are higher in the USA but further explained how other factors come into play to make Canadian compensation potentially more attractive.
Dr. Naugle elaborated on the "pillars of compensation" and presented details on how compensation might vary in different Canadian provinces and in urban versus rural practice settings with specific examples.

He advised new optometrists to dive deeper than the simple "percent of total gross billings" as other critical factors will outweigh this "top line" figure, citing specific questions that associate NextGen ODs need to ask to determine the income potential in specific practice situations.
Recently, Dr. Naugle was interviewed by NextGEN OD Ambassador, Nyah Miranda regarding the FYidoctor's Future Vision Leadership Program.  
Click the link to listen to this recent discussion.