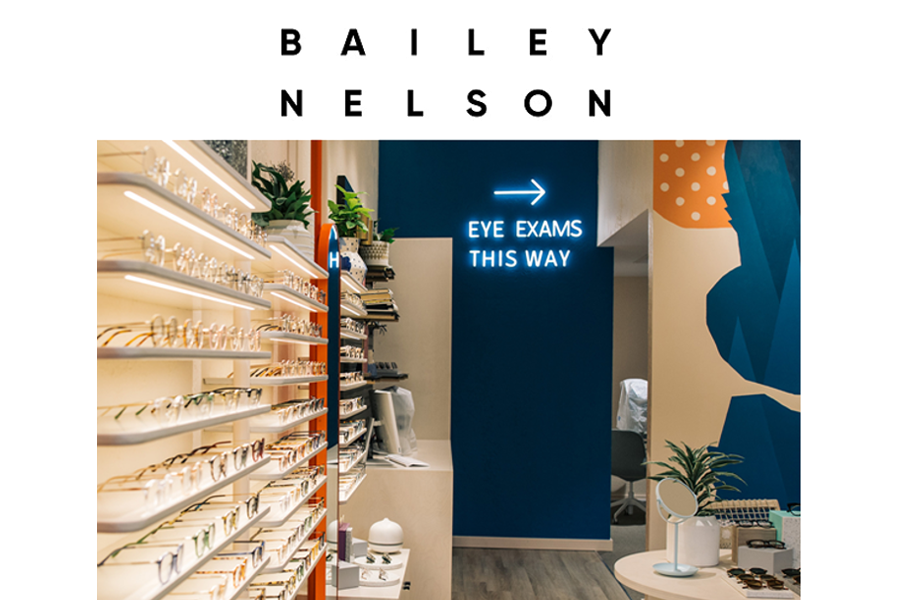 We make i t easy to run your practice by providing:
• A fully equipped exam room plus pretest equipment
• Online booking and recall systems
• EMR system
• Support staff for reception & pre-testing
• Onboarding, support and training
• Tools to optimize traffic and expand your clinic
Category:    Sponsor
At Bailey Nelson, it's our mission to work with innovative and caring optometrists who ensure all patients enjoy a friendly, stress-free experience worth remembering. We're looking for passionate individuals who are highly invested in making a difference for their patients. Is that you?
Founded in Bondi Beach in 2012, Bailey Nelson is a global brand led by an incredible team with boutiques in Australia, London, Canada and New Zealand. Buying glasses should be one of life's pleasures. And we've created a formula to make it one. We start with a process that's clever and honest. And we hire people who are passionate and genuine. It's not rocket science. It's just caring enough about what you're doing to do it right.

DOWN TO EARTH
We give honest advice to our patients that correlate to their visual needs.
CONSTANTLY IMPROVE
We're always finding new and innovative ways to improve the patient journey, including a focus on adding to our OD equipment.
TIGHT KNIT
Never feel like you're practicing on an island by yourself. You've got a network of independent ODs to reach out to, an optometrist who serves as the eyecare director for the organization, and support from entire Bailey Nelson team in (and
out) of the store.
"I like the culture Bailey Nelson promotes, which reflects in the awesome store atmosphere and great people you get to work with. My best experiences so far have been meeting and working with various people in the company who come from different backgrounds and cultures. As an OD, you can practice as you choose and there is no pressure from sales."

Syed Mohammed Moosavi
Optometrist at Bailey Nelson Scarborough town centre

"I enjoy working with Bailey Nelson because of the people both the BN team and the patients. I love having the time to get to know each patient and help improve their quality of life. I also enjoy the team of BN doctors who are always there to help each other through tough cases and and bounce ideas off each other."

Leah Thorpe Kensington, Calgary
Waterloo, Class of 2012

"Bailey Nelson is a supportive, open, and trusting environment that has helped me grow as a creative leader in eye care. At Bailey Nelson, I get to mold my own clinical approach, implement creative ideas in pursuing specialized care with high efficiency, and deliver care that is not only high-quality but truly accessible and affordable."

Song Kim, Square One, Mississauga
Waterloo Class of 2021
Frequently Asked Questions
What services does the Bailey Nelson team provide?
Along with marketing to drive the appointment books, our team also helps you on the ground by taking appointments for you, and pretesting your patients. You won't need to hire your own staff to do this.
What equipment does Bailey Nelson provide?
We provide all the equipment you'll need to see your patients and you get a fully-equipped state of the art exam room and pretest equipment
Let's talk.