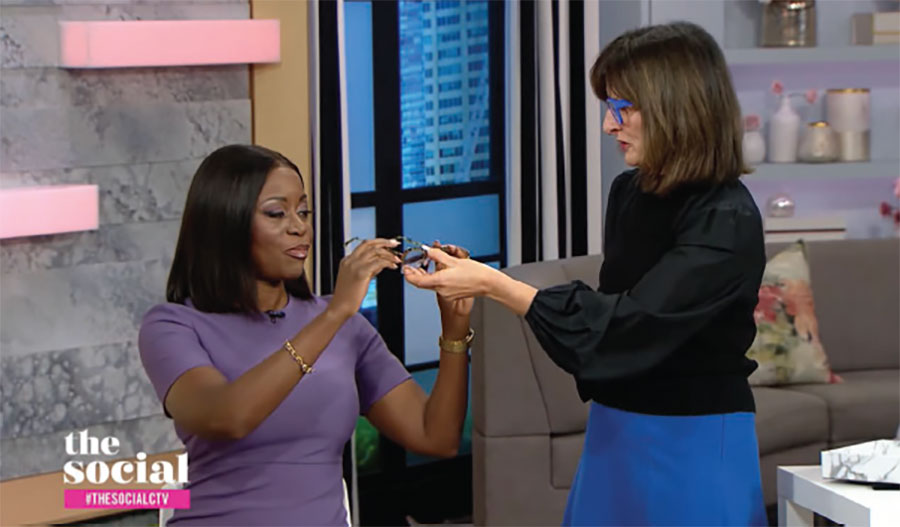 Scientific research gathered by Florida State University with more than 100 scientists reveals that true expertise is mainly the product of years of intense practice and coaching, and that ordinary practice is not enough. To reach expert levels, you need to constantly push yourself beyond your abilities and comfort levels.
This report stated that what truly distinguished ordinary from extraordinary was that those who are experts continually analyzed what they did wrong, adjusted their techniques, and worked arduously to correct their errors.
Did You Learn Style in Optical School?
When it comes to style expertise, I can share that when I graduated as a Registered Optician in 1989 that no one taught me how to style eyewear. This skill was not part of the opticianry curriculum. I did learn how to select the best frames for a high myope and how to adjust the temples and nose pads, but nothing about fashion and style. I still cringe when I remember selling small frames to men with big heads because they required a high minus prescription. The frame looked ridiculous and was far from fashionable. At that time, I was only using my optical science skill set and not taking into consideration balance and proportion, let only anything that resembled style.
The longer I worked as an Optician, the more disillusioned I became with my career choice. I was bored selling the same frames every day and felt like I was not doing impactful work. I began to look at other careers as a way out of the optical industry.
Always passionate about fashion, I began to study Image Consulting and became fascinated with the profession. Image Consultants are experts in marketing and fashion. They style clients to improve their appearance and help them to achieve personal and business goals. I was intrigued with the process and willing to put in the time and study to learn more so I could make a move to a new profession.
Is Fashion Art or Science?
Fashion design is definitely art. It takes a creative person to design clothing that other people want to wear, but as I studied Image Consulting more, I learned that there is a science to dressing body types and personalities. Now I was hooked!
When I made the conscious decision to come back to optical it was only if I could learn to be an Expert Stylist and bring my love of image branding and fashion to my daily work. With the combination of image consulting training and solid optical experience, I now had the hands-on experience to create and develop the 5 Spec Style personalities.
Having this structure, allowed me the freedom to stop assuming anything about the people that I was fitting with eyewear and gave me a scientific approach to fashion and style that I was able to systematically implement and repeat with every client.
Spec Style Personality
The science of Spec Style personality is the combination of analyzing the body types, the clothing styles that complement the body types, hair styles, personal complexion and facial features.
Breaking down an individual's personal style with science and practice allows us to be unbiased as we analyze and assess our
clients to better help them select eyewear. You are then not simply selling glasses; you are selling style expertise.
You can learn how to assess someone's Spec Style just by looking at them. Seriously!
Top 5 Things to Assess Your Client's Style and be the Expert Eyewear Stylist:
1. The design lines in their clothing: straight or curved?
2. The fabrics they are wearing: textured or smooth?
3. The colours in their Wardrobe: deep, light, bright, muted?
4. Hair Style: straight or curly?
5. Facial features: curved or angled?
Once you have assessed these personal details, select eyewear that mirrors or mimics the same. For example, if your client is wearing a tweed jacket that appears textured, select eyewear that has texture in design or material. If they have smooth, sleek straight hair, select eyewear in shiny plastic or metal with straight edges.
Moving away from what you intuitively default to in conversation is not easy, but it is necessary to learn new techniques. With
intentional and deliberate practice, you will confidently be able to refer to what you are specifically seeing with each individual
instead of falling into the trap of repeating the same vocabulary. Your clients will have confidence in your expertise, and they will buy from you.
1 Harvard Business Review, July- August 2007, The Making of An Expert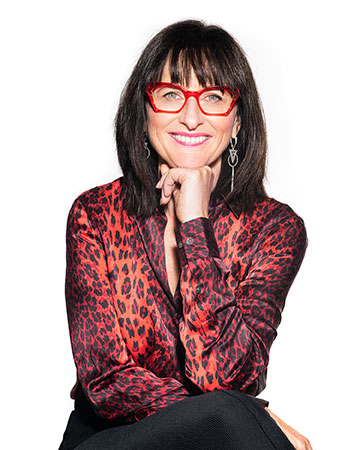 WENDY BUCHANAN
Wendy Buchanan, Eyewear Image Expert is a Registered Optician, Image Consultant and Educator.  She is the creative force behind the Be Spectacular Eyewear Styling System® for Eye Care Professionals.  Wendy helps eye care practices to systematically reinvent their eyewear dispensaries to create an exceptional buying experience and increase profits.
Connect with Wendy on Instagram   https://www.instagram.com/bespectaculartraining/