NewOptometrist.ca puts the spotlight on Zero to Five Pathfinders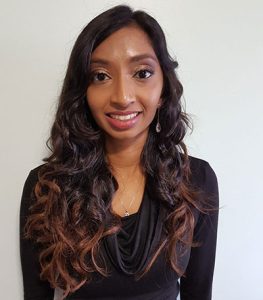 PathFinder Spotlight:
Dr. Dharani Devathasan
Dr. Devathasan received her B.Sc. (Biochemistry) and Doctor of Optometry degree from UW. She further trained at the Eye Foundation of Utah, where she focused on retinal diseases and glaucoma. In 2015, she served on the  Volunteer Optometric Services for Humanity (VOSH) mission team.
Dr. Devathasan has a special interest in contact lens fitting, myopia control and ocular disease.
When she is not busy working at the clinic  doing yoga,baking, working out or enjoying her time with her close friends and family. She loves the fast-paced environment that downtown Toronto embodies.
Why did you choose your field?
I chose optometry because I've always had a passion for healthcare and helping people. I enjoy working with others, so I would consider myself a people person.  I can't imagine myself working a nine to five desk job. With optometry, I am able to help people better their day to day lives by improving their vision and give recommendations suited to their lifestyle. Furthermore, optometry is much more than vision; there have been numerous times I've diagnosed serious underlying systemic conditions in a routine eye exam. I believe in preventative healthcare and this field allows me to educate patients on measures they can take to lead a healthy lifestyle for their eyes as well as for their overall health.
What advice would you give a new grad today?
I was born and raised in Toronto and I couldn't see myself working or living anywhere else. I knew deciding to practice in Toronto after graduating meant I would be working in a highly competitive region with some of the best optometrists in the province. I believe you should strive to practice the way you want and where you want. If you are driven and passionate, you can be successful anywhere. I am currently working at multiple practices which isn't unheard of for a new grad working in Toronto. However, my long-term goal is to work at 1-2 practices and establish my patient base in predominantly one office. Patients will want to come back to see you if they had a memorable experience and received superior care. Figuring out where you want to work and in what setting can be tough, but being patient with the process while building your brand for the long term is key. It's all about mindset and working towards your goal and not giving up!
What is something you have done in your practice to set you apart?
I try to take a few extra minutes to educate my patients. The most common feedback from my patients is that I am very thorough and I explain things well. I try to explain things in a way that is simple and easy to remember. I try to explain the significance of certain tests to help patients understand what I'm doing and for improved compliance of their treatment plan and management of their health conditions. For more complex cases, I write it down or email them a summary. This does take more time on my part but if it means the patient will remember and listen to the recommendations I've provided, it's worth the extra effort.  I try to make the eye exam a memorable and positive experience for the patient, especially for those that are more anxious and worried about their eyes!
What's your Favorite food? Favorite past-time/hobby?
It's hard to pick one favourite food when I love food in general. I look forward to eating and I have a lot of guilty indulgences because of my sweet tooth. One of the perks of living in Toronto is accessibility to so much great food and its diversity. I love trying new restaurants and brunch spots. I have so many favourite restaurants in Toronto. Some of my favourite cuisines are Italian, Indian, Thai and Japanese. One silver lining of this pandemic for me was that I have discovered a new passion of mine, which is baking. I love baking sweets and sharing them with my family and friends. During the first lockdown when I was unable to work due to the shortage of PPE, I started baking one thing after another. I found it therapeutic and challenging to master complicated pastries and recipes. When I am not working, I am in the kitchen baking up a storm!
What would you do if you won 10 million dollars? What would you do with your practice?
If I won 10 million dollars, it would be truly life changing. The first thing I would do would be to help my family; I'm a first generation Canadian which comes with its challenges. My parents have sacrificed so much for my siblings and I so that we could have better opportunities. As a result, they spent most of their lives working tirelessly. I would want to give them the financial freedom they deserve. Furthermore, I would want to take it a step further and help some of my extended family in Sri Lanka and civilians who are less fortunate who were impacted by the civil war.
I would obviously reward myself as well by purchasing my dream house in Toronto with space for a home gym and huge kitchen to facilitate my passions outside of work, fitness and baking. I would start up a practice in the heart of Toronto where it's deemed the riskiest and most saturated. I would work because I want to rather than because I need too. This practice would have the latest equipment and the most beautiful dispensary ranging from high end designer glasses to modestly priced glasses so that everyone is accounted for. My dream practice is one that is inclusive and offers the best service and care possible.
What is the best possible future discovery or invention in any field?
One of the greatest discoveries of all time would be the cure to cancer. Working in the healthcare field, I've had one too many patients that have been diagnosed with cancer or know of someone who has passed away from it. Being in good health is such a blessing and it is something we often take for granted. Sometimes I remind myself how lucky I am to be alive and healthy, which allows me to do the things I love and to be around the people I love. It's easy to stress about the little things in life and focus on the negative aspects, but practicing gratitude on a regular basis is truly an art.