NewOptometrist.ca puts the spotlight on Zero to Five Pathfinders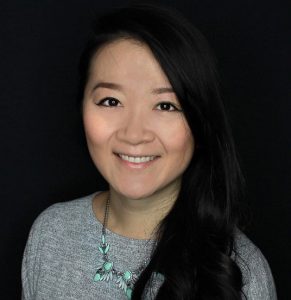 PathFinder Spotlight:
Courtney Fan, OD
Undergraduate Studies
University of Waterloo Biotechnology/Chartered Accountancy
Post Graduate
University of Waterloo Masters of Accounting

Optometry:
University of Waterloo – 2018 Graduating Class
Tell us about your education background. You have an interesting path to optometry.
I went to the University of Waterloo for my undergrad program in Biotechnology/Chartered Accountancy, which is a split co-op program. I learned both science as well as accounting at the same time.
I knew I wanted to go into healthcare, but I also wanted to try out other new things. The UW accounting program looked great.
And graduating from my Biotechnology/Chartered Accountancy Program, I did an extra year of Masters of Accounting at UW, just to finish all the accounting courses.
This also gave me the time to make sure that I wanted to go into optometry for sure.
Why was optometry appealing to you?
After shadowing multiple doctors, optometrists and other health care providers, I really felt like optometry was a great profession for me.
I wanted to have a work-life balance. And I thought that optometry was a great fit.
Let's go back to your 4th year rotations. Tell us about them.
One of my rotations was in Salt Lake City, Utah. I was there for four months as part of my ocular disease, therapeutics rotation under Dr. Robert P. Wooldridge.
His clinic was built on a lot of glaucoma patients, dry eye, as well as macular degeneration. He worked with ophthalmologists as well. It was a really great experience.
I also worked in Sarnia and Mississauga.  One of my last rotations was in Kingston, Jamaica, where we did exams and worked with Marilyn Smith, Optician from UW. Marilyn hosted the entire program, and we were able to provide services to Jamaicans. It was a really great experience and a little bit different than some of the practices that I worked at in Ontario!
What about after graduating? Bring us up to date.
After graduation i moved to the small town of Tillsonburg in SW Ontario (near London) as a full-time associate optometrist at "Optometrists On Broadway".
It's been great ever since; the clinic is super busy. We have an OCT, fundus photo, visual fields, just to name a few of the available equipment. I can practice to the full extent that my Ontario optometry license allows.
After almost three years of working full time, and working through the pandemic, things are still pretty good. We get a lot of seniors, a lot of people who still want to be seen because they have eye issues. We have been keeping busy throughout the pandemic.
Have you been able to draw upon your clinical disease rotation experience now that you are in practice in Ontario?
Definitely. The practice in Utah was mainly focused on glaucoma patients. We did a lot of OCTs, photos and visual fields.
I learned a lot about how to best manage and treat patients, even though a lot of times the drugs were not the same, the concepts were all the same.
I was able to witness surgeries for the glaucoma patients and do a lot of the follow ups that an ophthalmologist would usually do in Ontario. In Utah I was able to see them firsthand.
The surgeon would have had the patient come back to our office the day after surgery, and we would see a lot of inflammation, things in the eyes that we normally wouldn't see in a one week or a six-week post op follow up.
I definitely learned a lot through all of my rotations.
In what ways do you now have the freedom to do your own thing compared to your clinical rotations? How is it different? 
Yeah, there is a funny story. In Utah we were able to remove concretions in patients, and we always try to gain as much experience as possible. All the interns were fighting to get these experiences, but not everybody had a concretion, but we all tried to at least remove one.
Coming back to Ontario, I did not realize that we were not allowed to remove concretions. There was just a little bit of pushback in terms of the things that I could practice as an intern versus now.
On the other hand, I do have a lot more freedom to do things the way that I would like them to be done.
For example, back in my other rotations, my supervisor might follow up in six months or every year. If I feel uncomfortable leaving certain diseases, I can follow up more frequently.
I do have the freedom to see patients as often as I want to make sure that things are going as smoothly as I would like or as I have planned.
What specifically were you looking for in a Job? And did you find it?
Yeah, for sure.  I was looking for something that was full scope practice and gave me the freedom and autonomy to practice the way that I wanted to.
While I was job searching, I was mostly only looking for full time positions, so that I can follow up on my own patients and build a patient base. It was important for to find a full scope practice with all the technology that I would like.
Also, it was important for me to find a really positive working environment and have everybody was working together as a team.
What about your longer-term plans? Do you have any ideas of what type of practice you want to ideally be in? 
I've definitely thought a lot about owning my own practice.
My fiancé is also an optometrist, so it would be a dream for us to open our own practice and have that autonomy to do whatever we wanted and to practice the way that we think is best. We are thinking that it will be in the next five years.
Okay, that's awesome. Let's do some of the fun questions.
Honestly, I forget what I do for fun, because now that we're just staying in all day. I'm thinking, "What did I do before with all my time?"
At the end of the day, I just want to relax and just give myself some alone time. After work I used to go to the gym every day, but now I just do a little light workout at home.
Recently, I started playing the guitar. My fiancé recently got me a guitar for my birthday, so I've been practicing.
I used to go skiing in the winter. In the summer I love to travel and spend a lot of time outdoors hiking.
It is important to make sure that we get enough vitamin D, because every working day we don't get to see the sun too much in a dark room. I try to make sure that my lifestyle is healthy and active and balanced.
Is there any advice that you'd want to offer to new graduates? any insight you can offer into to help others?
I think one of the things that I want to tell new grads is  "Don't lose your passion for what you love, and what you love to do."
A lot of times we get caught up in our life just trying to make money, trying to pay back our student debt. But I think it is also important to remember what made you so excited to be an optometrist in the first place, what really excites you!
Okay, awesome. That's really good advice. It was really nice to catch up in this way, because I didn't know what you have been up to now that we are both busy working every day.