NewOptometrist.ca puts the spotlight on Zero to Five Pathfinders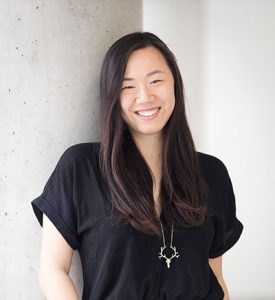 PathFinder Spotlight:
Cindy Shan
Optometry:
University of Waterloo 4th year-Class of 2021

Cindy Shan is a student at the University of Waterloo, School of Optometry and Vision Science.
She is the Class President for the Class of 2021.
She has a special interest in practice management, specialty contact lenses, and myopia control.
When not engrossed in building a career in optometry, Cindy loves to travel and explore other parts of the world, test her skills at DIY projects, and hike the beautiful mountains in British Columbia.
Why did you choose Optometry?
There are many reasons that an individual chooses their profession. Optometry, to me, was always a perfect combination of being academically challenging, patient-focused, and entrepreneurial.
After reaching out to doctors in my hometown of Vancouver, I had the opportunity to shadow them and work alongside them. I fell in love with the work and was ecstatic when I got an acceptance email to the University of Waterloo.
Four years later, I am finishing up my last year of optometry school and getting ready for graduation in a couple of months.
During my time in Waterloo, I was the Class President for the Class of 2021 and helped out with many organizations within the school. The highlight was definitely planning the many social gatherings for my class, whether it was holiday parties, laser tag, or pub crawls.
Where do you see your practice / eye care in 10 years?
The answer to this question has changed drastically in the last couple of years. If you had asked me this question at the beginning of optometry, I may have said "return to Vancouver and work in an office there."
I have learned a lot in optometry school, but one of the most important lessons was the amount of potential that this profession holds and the various regions in Canada that are underserved.
Having had the chance to complete a clerkship rotation in a rural setting, I appreciated the challenge and satisfaction of providing our services to these communities.
In the next 10 years, I hope to work on completing a residency in contact lenses and opening a practice in a rural city. I hope to share what optometrists are capable of beyond a simple glasses prescription.
What is currently the most exciting thing in your field to help patients?
I am most excited about the advancements in dry eye disease treatment and management. At the Global Specialty Lens Symposium in 2020, the last conference I was able to attend pre-lockdown, I witnessed the many advancements in technology and treatment options available.
Optometry is a profession that is ever changing and developing new ways to best help our patients. Having seen many patients that suffer from discomfort due to dry eyes, I am excited to see the new pharmaceutical and technological advancements that will soon become another treatment option.
It was exciting to see certain devices that were advertised at conferences early in my first year of school come into the market and be implemented into private practice during my fourth year.
Which ECP speakers/leaders do you admire?
Dr. Andrea Lasby has been an amazing speaker and leader that I have had the pleasure of interacting with multiple times. As an optometrist with a residency under her belt, multiple leadership positions within the optometry community, and a mother, I strive to be as accomplished as her.
I had the chance to shadow Dr. Lasby for one day at her practice, Mission Eye Care, and loved the way she interacted with her patients. The connection that she makes with her patients builds a trusting patient-doctor bond.
Her accomplishments in the world of specialty contact lenses is also very admirable, as I hope to become a fellow of the Scleral Lens Education Society and the American Academy of Optometry.
Favorite past-time/hobby?
I am a big fan of crafting and have always had a knack for completing hands-on projects. Recently, I took up crocheting and have been creating many gifts for friends and family. A night in with some movies and my yarn sounds like a perfect evening.
Eventually, I hope to be able to work up to bigger projects, maybe dipping my toes into woodworking and creating my own furniture.
My favourite social aspect of optometry?
Going to conferences! I went to my first conference in my first year of optometry school and absolutely fell in love with the community. I will always remember seeing the doctors greet each other and reconnect, even though they practice in distant clinics.
My friends and I always discuss our future plans of meeting up at conferences, attending lectures together, and taking advantage of the many sponsored events.
I love the ability to build a network of colleagues that I feel comfortable going to for advice and assistance if I have a difficult case. Attending the University of Waterloo was amazing for this reason, as I am surrounded by intellectual and lifelong friends.