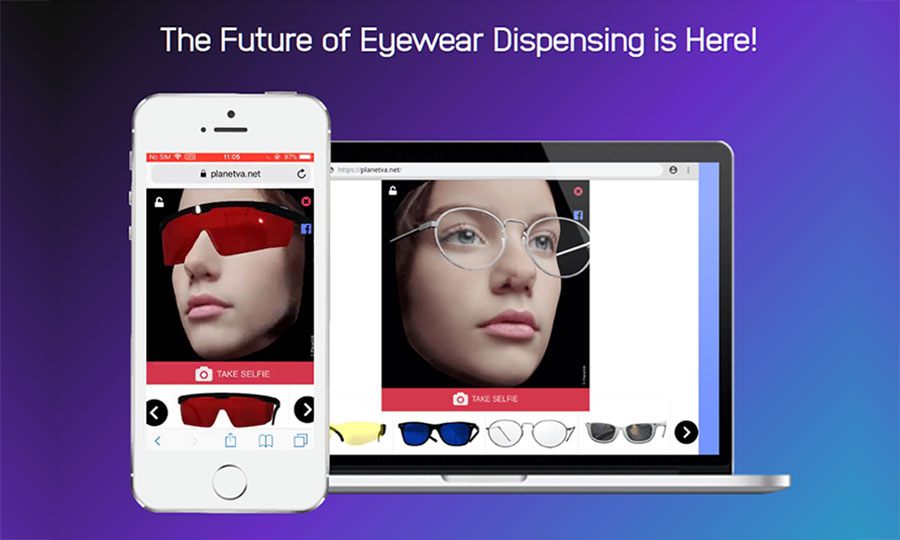 PlanetVA (https://planetva.com), a Belgium-based provider of virtual try-on (VTO) solutions for eyewear, announced the debut of  vmLIVE, for optical retailers and eyewear companies.
vmLIVE enables shoppers to virtually try on eyewear live in 3D. The solution runs within the modern browser. Users can see precisely how the selected eyewear looks appears without going into a physical store or downloading a a specific mobile phone app.
This breakthrough web-based try-on experience ensures that PlanetVA and its clients are at the forefront of retail's transformation during the COVID-19 pandemic and beyond.
Following the acquisition of VanKeel Solutions (https://vankeelsolutions.com) earlier this year,  PlanetVA significally improved VanKeel Solutions' live 3D VTO eyewear web app VTOLive and have renamed vmLIVE.
"We are excited to launch the latest VTO solution, vmLIVE, that complements our current offerings," said Ludwig Heymbeeck, founder of PlanetVA. "Unlike competing solutions vmLIVE processes all camera live streams and pictures in the browser and therefore user privacy is fully guaranteed."
PlanetVA's proprietary solution, vmLIVE, runs on smartphones, tablets, laptops, and desktops. The solution makes it suitable to deploy in the dispensary area of the optical retail shop as well as on the website.
"PlanetVA is always on the lookout to complement its offerings," said Heymbeeck. "We are especially interested in partnering with independent optical labs and optical service providers.
Recently, we have set up an exclusive distribution agreement in North America with OpticalNearMe.com which provides turnkey e-commerce solutions to independent optical retailers."
For more information:
https://planetva.com
https://vankeelsolutions.com
For a demo of vmLIVE:
https://planetva.net/demo/vmLIVE
ABOUT PLANETVA
PlanetVA is a private company registered in Australia and Europe with a 16-year footprint in the virtual eyewear try-on arena. PlanetVA provides leading-edge virtual eyewear try-on solutions based on advanced in-house developed AI and AR technologies.