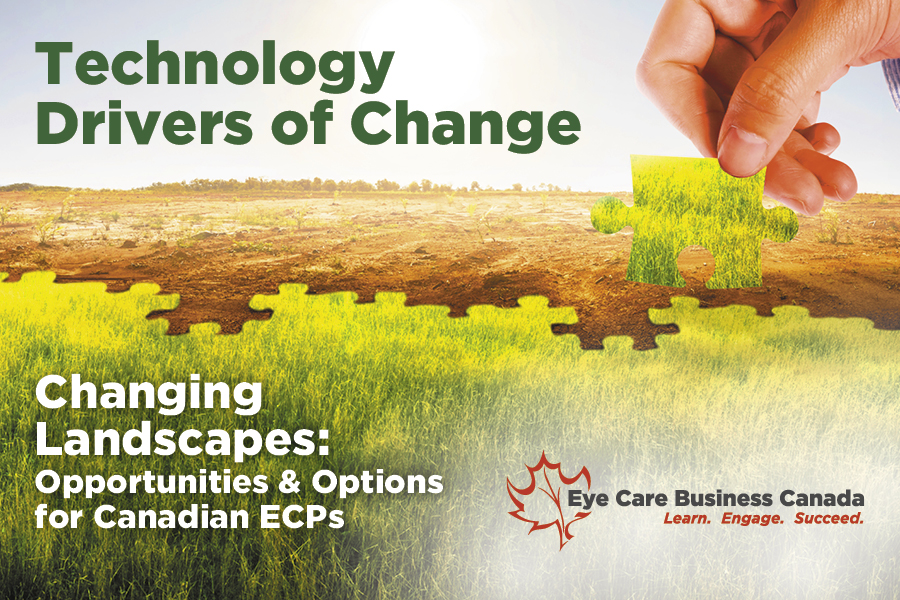 Canadian eye care industry experts gathered virtually on Monday October 25th to share their views on how technology is impacting eye care.
Representatives from leading organizations including  Bausch + Lomb, Eye Recommend, FYidoctors, IRIS Group, F12.net and newcomer to the Canada, Specsavers, provided a precis on the top important and possibly disruptive technologies they feel will affect eye care within a 3-5 year time horizon.  (Click here for a full list of speakers)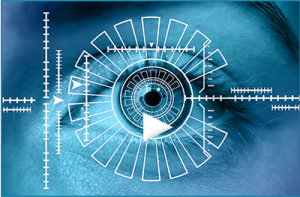 Roxanne Arnal, a former independent OD practice owner, now Certified Financial Planner© moderated the event including a Q&A panel discussion to address attendee questions. Roxanne set the technology discussion stage with a review of how quickly, over the decades, new technologies reached a saturation point among consumers. Automobiles took decades from innovation to saturation, whereas new technologies, such as tablets, took only a few months – seemingly "in a blink of an eye".
Here is a summary of the speaker presentations: 
Dr. Trevor Miranda (Cowichan Eyecare) and Ravi Tanna (Professional Relations Manager, B+L  Canada), discussed the threats provided by pervasive technologies including subscriptions and e-Commerce. They emphasize available solutions as opportunities for independent optometry against these threats.  Dr Miranda underlines the important point that innovative products are the differentiating lifeblood of independent Optometry.
Dr. Damon Umscheid (Eyes 360) representing Eye Recommend, cited omni-channel retail as a key driver and offered a nuanced definition of omni-channel versus multi-channel retail. His other technologies discussed were Artificial Intelligence (AI) and Telehealth. Dr. Umscheid concluded on the benefits of independent practice and how the support of Eye Recommend helps independents navigate through the new technology landscape.
Dr. David Schwirtz, VP Innovation, IRIS Group spoke about the evolution of e-commerce from brick and mortar to what he sees as the future. He framed the topic of telehealth related to optometry in a functionality spectrum including Online refraction, remote optometry and telemedicine. Finally, Dr. Schwirtz revealed IRIS's focus on virtual try on and dispensing technology that keeps the professional and patient at the centre of care.
Naomi Barber, Director of Optometry, Specsavers Canada provided an overview of the international Specsavers organization. She explained how Specsavers looked at the major causes of vision loss and identified that OCT was clearly the technology with the most potential. She explains that a new way of using this existing technology will have the most impact on serious eye health issues, including on Glaucoma, Diabetes and AMD in the next 3-5 years.  Ms. Barber shared the results of an Australian pilot program which Specsavers plans to implement in Canada.
Dr. Alan Ulsifer, FYidoctors | Visique CEO & Chairman of the Board, shared his views on an expanded concept of Omni-Channel, e-commerce and Tele-Optometry. He presented interesting results of a survey of patients on satisfaction levels with "at home exams". Results broken out by age demographics provided some revealing patient perspectives. Finally Dr. Ulsifer addresses the concept of "Kiosk Optometry"; its history and possible future.
Alex Webb, is the Founder and CEO of F12.net which provides managed IT services to health care and other businesses to offload the risk and complexity inherent in IT infrastructure. Mr. Webb provided a sobering review of cyber incidences in Optometry and outlined the 5 top security challenges in clinics and the spectrum of risks from extortion to unrecoverable business loss. Finally he offers a prescription for a cyber security cultural shift for practice owners.
Upcoming "Changing Landscapes Events: 
November 1:  Selling & Buying a Practice
November 8:  Career Pathfinders: Making Informed Choices
October 25 Event Sponsors include:
B +L Canada,  Clarity Financial Services, Eye Recommend,  FYidoctors/Visique, IRIS GROUP, Specsavers,
Care1,  F12.net, Digital ECP, CRO Online CE, Eyeployment.com