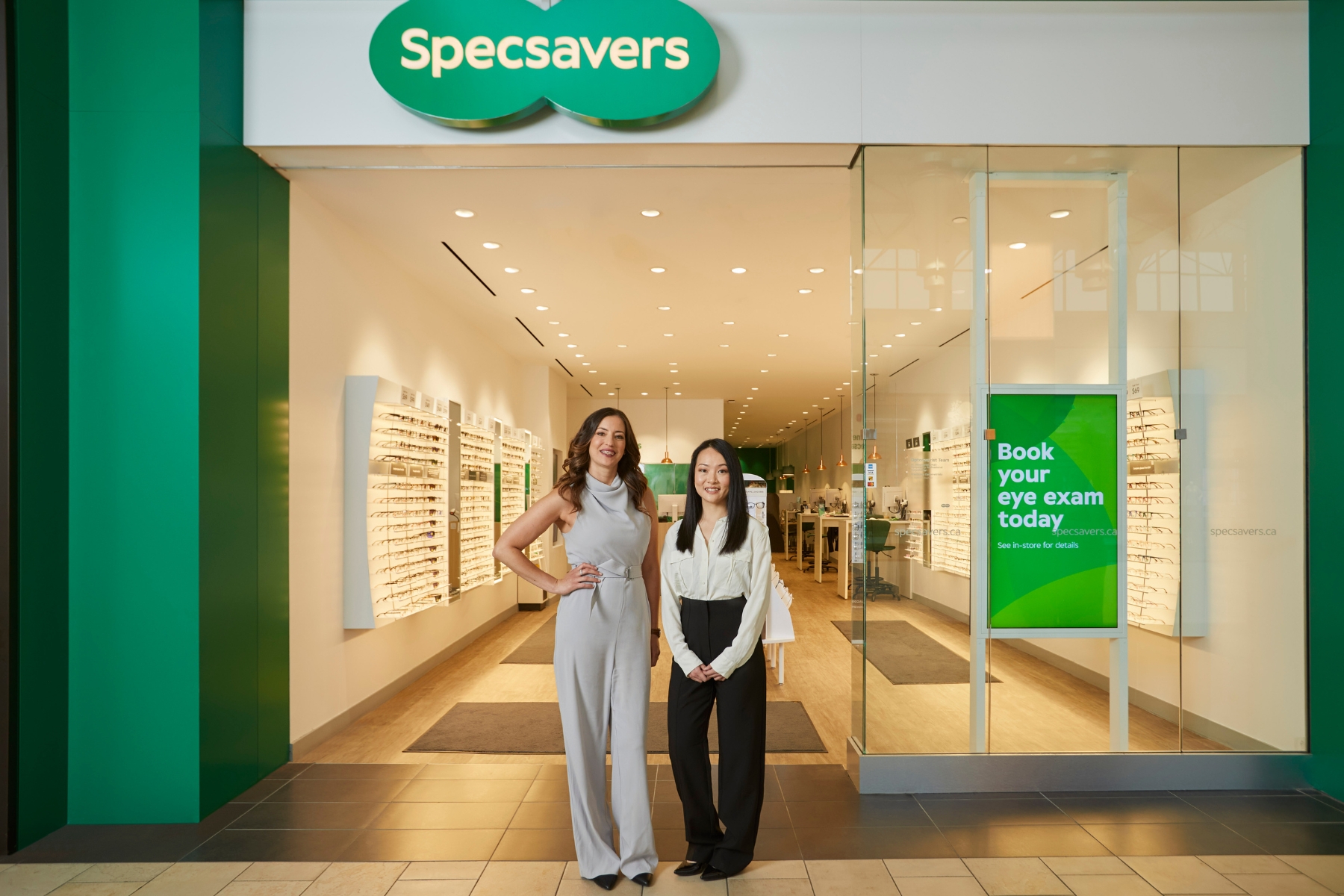 Dr. Stephanie Kwan, optometry partner, and Rachel Perez, retail partner, reflect on their partnership and experiences in changing lives through better sight with Specsavers.
Q: What are you hearing from patients and customers at your location?
Dr. Kwan: We've had some incredibly meaningful interactions with our patients. One had come in with her daughter and was looking for help with her sight to do her hobbies like crosswords. She had already experienced some vision loss due to age-related macular degeneration. I gave her high plus readers to help her do what she enjoyed most, and she grabbed my hand in thanks and told me how much I changed her life.
Rachel: I had a woman who came in during my first week at Specsavers who hadn't had new glasses in 12 years because she wasn't able to afford them. She was so thankful that she was now able to buy not only one, but two pairs at Specsavers. When she thanked me for helping her with tears in her eyes, I nearly started to cry myself. This is the Specsavers difference.
Q: What has inspired your journey within the optical industry?
Dr. Kwan: A part-time job at a local clinic during university sparked my interest in optometry. Coincidently, my great-aunt and great-uncle were patients, and I thought to myself, 'how great would it be to be the one examining their eyes?' After a few months, I took steps to pursue a career in optometry. Today, I am a graduate of the Illinois College of Optometry.
Rachel: After graduating with a degree in human resources, I felt uninspired and disheartened in the job market. I discovered my passion for opticianry through a friend's enthusiasm of her own career in the industry. I decided at that point that I would pursue it wholeheartedly and took the necessary steps to become an optician.
Q: Tell us a bit about yourself outside of the clinic or business.
Dr. Kwan: I am passionate about continued education and self-learning. As a Fellow of the American Academy of Optometry, I stay up to date with the latest advancements in the field. I have also participated in two clinic mission trips to Belize and Colombia in the outskirts of the cities where we provided care for those who do not have easy access to eyecare.
Rachel: Working with food banks has always been very near and dear to my heart, so I have always loved supporting local food drives. I have also volunteered with the Canadian National Institute of the Blind and their Special Olympics. Outside of work, my 8-year-old daughter is really my world.
Q: Since opening Specsavers CF Lime Ridge, how would you describe how business is going?
Rachel: Being the second store in Ontario, the volume of eager shoppers exceeded our expectations. We take pride in our high-quality service score (NPS) of 86.6%. Specsavers strives to meet a platinum standard of service by delivering an enhanced experience, personal gestures and happy moments. Our team is dedicated to meeting this standard, and our customers are recognizing it.
Dr. Kwan: The first few weeks after opening my independent clinic at Specsavers CF Lime Ridge happened so fast. It felt like starting a new job with feelings of nervousness, excitement, joy and adrenaline – but multiplied. I was thrilled at how fast the schedules were being booked up and how many patients wanted to give us a try. Soon, marketing was kicking in and the word of mouth was spreading. There are so many people who were eager to come try us out. It's been a fantastic journey so far.
Q: Is there anything about partnering with Specsavers that you didn't expect?
Dr. Kwan: What has surprised me since partnering with Specsavers was the level of camaraderie amongst all the retail and optometry partners, the support staff, and the team who helped with commissioning week. Everyone is here to help, and there is always someone to turn to when needed. I am seeing this first-hand given my position on the Optometry Steering Group committee, where we collaborate as a network of independent doctors. Specsavers has been actively listening to support the direction we want to take eyecare.
Rachel: For me, it was the amazing team at support office, who is always willing to step in to provide guidance. I'm also so pleased with how my partnership turned out, as well. My relationship with my partner, Dr. Kwan, is so strong and we enjoy working together.
Q: Did you always want to be a business owner? What inspired you to feel ready to make this change?
Rachel: Ever since I became an optician, I was interested in owning my own business, but after working alongside the owner of a private optometric practice in a previous role, my desire for ownership increased. When I heard about Specsavers, I instantly knew ownership with them was the right move for me.
Dr. Kwan: I was initially inspired by a coworker of mine who introduced me to Specsavers and shared more about the partnership model and the support available. I didn't think much about ownership before that, but my coworker gave me the little push I needed. After looking further into Specsavers, I was motivated by their unique offering, particularly access to advanced clinical equipment, such as OCT, for all patients.
Q: What, if any, barriers stopped you from starting your own business sooner?
Dr. Kwan: At Specsavers, I know there will always be help and support when I need it. Before joining as a partner and clinic owner, I was most concerned about not having help or given guidance when opening my own business. The thought alone was quite daunting and learning about the business side while trying to give quality care to my patients at the same time seemed overwhelming. Specsavers makes it easy to do both seamlessly.
Q: What words of encouragement do you have for someone considering joining Specsavers CF Lime Ridge or elsewhere in the Specsavers network?
Rachel: Specsavers is an amazing company that recognizes the importance of treating their teams and customers the right way. There are so many opportunities within the organization, not just partnership, and they have the best training and encouragement. I always say, "My hardest day at Specsavers is still better than my best day anywhere else I have worked".
Dr. Kwan: If you are looking for camaraderie in a professional setting where there is always someone to turn to for assistance or direction when you need it, this is the place to be.
Q: Is there anything we haven't asked you that you would like to add? 
Rachel: The future looks greener on this side. I'm so excited to be part of the change in our industry and the help to all patients, regardless of their financial position.
Learn more about new and upcoming ownership opportunities with Specsavers by reaching out to the Partnerships Team.