Naomi Barber, Director of Optometry, Specsavers Canada shares thoughts with Roxanne Arnal on Specsavers' approach  particularly as it relates to data modelling and working with various health stakeholders to improve accessibility and drive  more positive outcomes in through its optometry network.
---
About the Guest

Since qualifying as an optometrist in 2011, Naomi Barber, Director of Optometry at Specsavers Canada, has subscribed to the philosophy that quality eye care should be simple, accessible, and convenient. Naomi has been involved in shaping the clinical roadmap for Specsavers, a major part of which was building the largest known dataset of optometric patient outcomes to measure impact on early detection of eye disease in Australia and New Zealand. Most recently, she has moved to Vancouver to lead the clinical strategy for Specsavers in Canada.
---
Episode Notes

Guest Naomi Barber provides an update on the Specsavers roll out, starting with the rebranding of specific BC locations to how it may unfold across the country through practice acquisitions or greenfield launches.  She shares Specsavers' values and how these ultimately translate into the optometric partner selection process.

Insights garnered from Canadian health care research and revealed to her tremendous opportunity for Canadian optometry to improve patient awareness of optometric services.

Naomi enthusiastically shares the Australian-New Zealand experience on how Specsavers were able to leverage their 10 million plus patient data set to help develop evidence-based programs to improve patient outcomes in diabetes. Working with the Australia's national health care system and key stakeholders, including Diabetes Australia, they were able to improve patient communication, compliance and outcomes.

Naomi directly addresses the potential implementation and challenges of a similar program in Canada, where health care is provincially administered, and eye care has been chronically underfunded.

Resources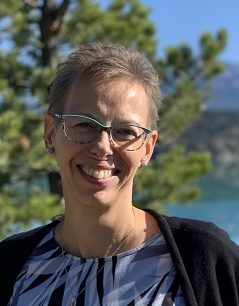 ROXANNE ARNAL,
Optometrist and Certified Financial Planner
Roxanne Arnal graduated from UW School of Optometry in 1995 and is a past-president of the Alberta Association of Optometrists (AAO) and the Canadian Association of Optometry Students (CAOS).  She subsequently built a thriving optometric practice in rural Alberta.
Roxanne took the decision in  2012 to leave optometry and become a financial planning professional.  She now focuses on providing services to Optometrists with a plan to parlay her unique expertise to help optometric practices and their families across the country meet their goals through astute financial planning and decision making.
Roxanne splits EWO podcast hosting duties with Dr. Glen Chiasson.