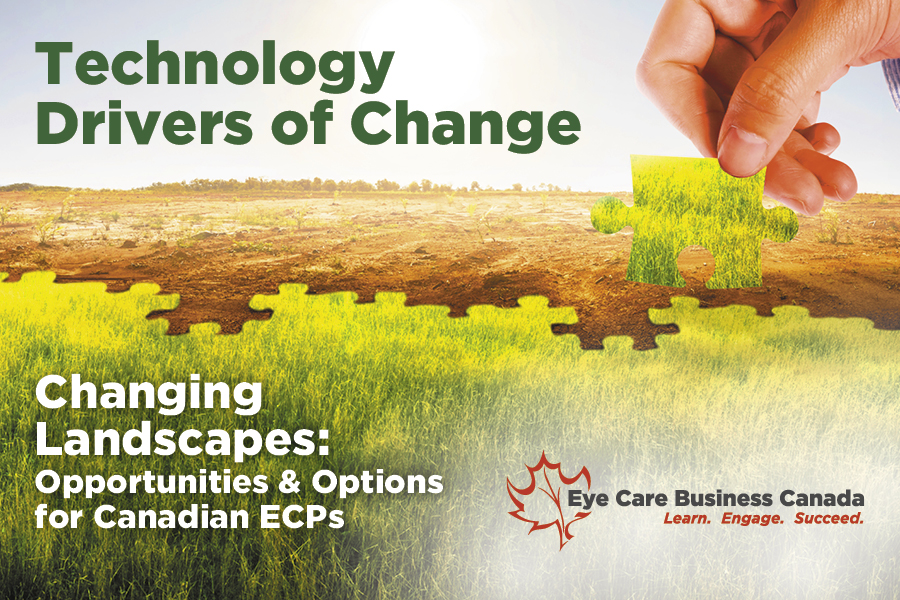 The speaker list for the inaugural  "Changing Landscapes: Opportunities & Options for Canadian ECPs" event has been announced by Eye Care Business Canada.  
The first of three events will focus on technology drivers of change and be held Monday October 25th (7:30 PM Eastern). 
Industry thought-leaders will share their insights as to what technologies will have the greatest impact on eye care and eyewear in a Canadian market context.  
Speaker List Includes:
Dr. Alan Ulsifer, CEO and Chairman of the Board, FYidoctors
Dr. David Schwirtz, VP Innovation, IRIS Group
Dr. Trevor Miranda, Cowichan Eyecare BC, Independent Optometrist
Dr. Damon Umscheid, Eyes 360, Okotoks, AB, Eye Recommend
Naomi Barber, Director of Optometry, SpecSavers
The event series will be moderated by Roxanne Arnal, OD and Certified Financial Planner (TM), bringing an informed and unique perspective to the events.
Tele-optometry, impact of omni-channel selling and remote face trace technology enabling touchless ophthalmic lens dispensing are among the factors to be discussed.  
Event registration is now open. Click Here for Details. 
PREMIER SPONSORS
PARTNER & FRIEND SPONSORS FOR THIS EVENT  
Follow up Events: 
The second and third events will be held on consecutive Monday evenings starting at 7:30 PM (Eastern). 
Selling & Buying a Practice (November 1) 
In the second event Industry experts will provide perspectives on the current state of play in the Canadian practice acquisition market. A must attend event if you are considering an exit strategy or looking to buy a practice. 
Click Here for Detailed Information.
Career Pathfinders: Making Informed Choices (November 8th)  
Career options and opportunities for both young and experienced ODs have never been greater as new organizations offering unique business models enter the market and established entities respond to the changing environment.
Click Here for Detailed Information. 
Click here to register for any of the Changing Landscape Events