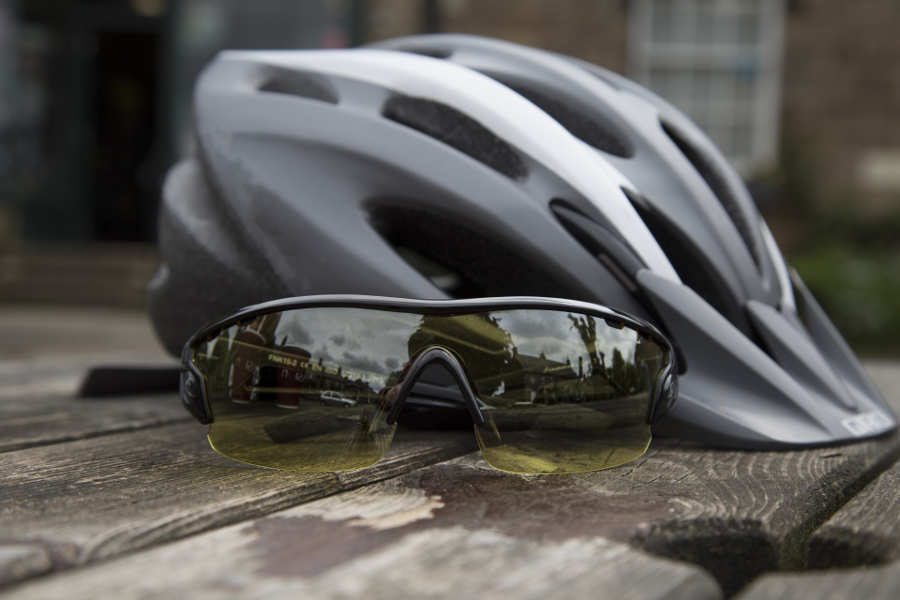 Patients have diverse lives that go from board room to beach–and sports eyewear should be part of the mix in serving those varied needs.
With knowledge building of the importance to protect eyes, and increase comfort both indoors and outdoors, sports eyewear offers practices an exciting opportunity. You have a chance to not only protect patients' eyes, but increase their enjoyment, and their performance, of their favorite activities. My practice has made sports vision a niche that includes the rehabilitation of traumatic brain injury patients, sports vision therapy and sales of sports eyewear.
Sport sunwear in Dr. Shidlofsky's office. He says it's well worth both prescribing, and selling, sport sunwear in your own office.
I work with three professional sports teams: The Allen Americans (ECHL), The Texas Legends (NBA D-league) and FC Dallas (MLS).
We generate about $50,000 annually just from sports vision therapy. In addition to professional and everyday athletes, I often find sports vision opportunities when I do my back-to-school examinations, and the patient plays competitive sports. I always do a King-Devick test baseline, and educate the parents that if the child sustains a head impact with symptoms, to bring them by the office the next day to determine if they may have had a concussion.
I also generate revenues by prescribing and selling contact lenses to patients whose sports activities make glasses sub-optimal. This includes basketball and football, players, where glasses could easily get smashed into their eyes and face.
Depending on the type of sports vision therapy required, I see patients 15-25 times in total.
We sell sports eyewear from Rec Specs, Nike, Adidas, Oakley and Maui Jim. Revenues from sales of these products amounts to $50,000-$60,000 per year .
Invest in Instruments for Sports Vision Therapy
We use the Senaptec Sensory Station, as well as the Senaptec Strobe. We also use FitLights and RightEye. We are in the process of adding Binovi by Eyecarrot for home, and on-field, training. These tools range from $15,000-$30,000. We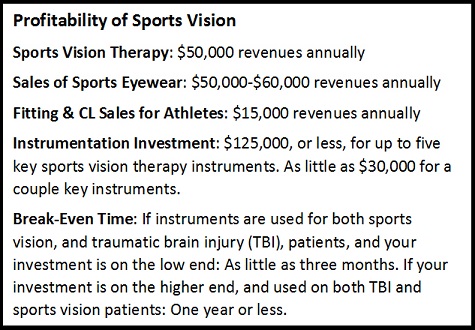 use most of these instruments, not only on our sports vision patients, but on our traumatic brain injury patients and developmental vision patients, so with the shared value, recouping the investment took us less than a year.
Begin Young with Sports Vision Patients
Teenagers are my most frequent sports vision patients, as parents are already investing heavily in athletic training specific to their sports, supplements, and other elements, to give them the best opportunity to succeed. However, minor league and college athletes are also great patients as they want to get to the next level—and certainly great vision and great vision skills gives them the edge.
Market Your Services
We publicize sports vision on our practice web site, and our practice is sometimes advertised, with a link, on the web sites of the sports teams we have relationships with.
A practice that has not yet established relationships with sports teams can advertise sports vision services on social media, like the practice's Facebook page, and through e-blasts to patients showcasing new sports eyewear, along with information about the sports vision therapy they provide.
Develop Referral Relationships
I work closely with neuro-psychologists, who monitor concussion treatment for my patients who have experienced a traumatic brain injury. I also work with the athletic trainers on the teams we have relationships with, and I coordinate my work with team physicians. In addition, I work closely with functional neurologists (chiropractors) for several of the teams. Once I prove my value to the medical team and trainers—which sometimes takes time—the referrals to my practice then flow much more easily.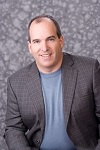 CHARLES SHIDLOFSKY, OD, FCOVD