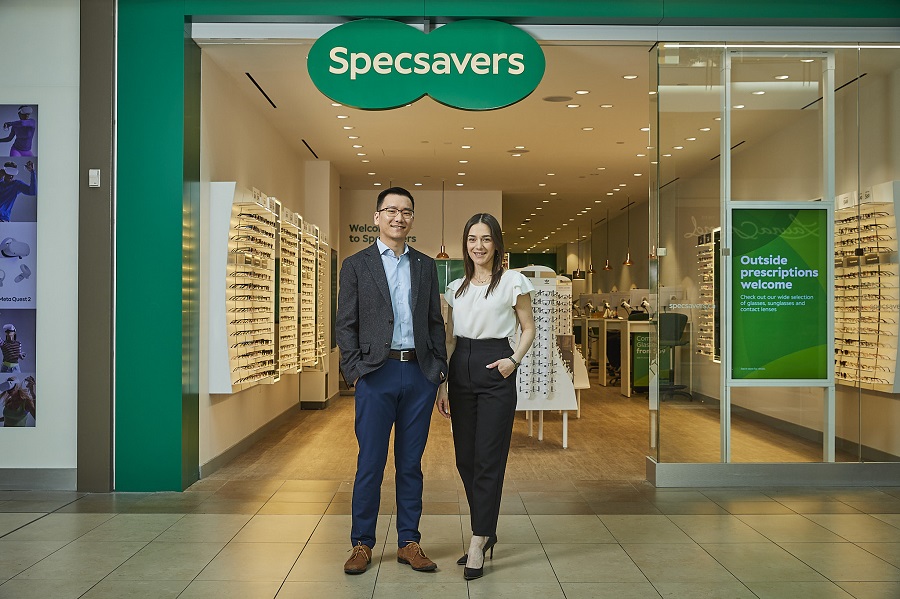 A few months after opening their doors as the first Specsavers location in Toronto, Dr. Jestyn Liew, optometry partner, and Rita Charchyan, retail partner, reflect on their entry into the GTA, with the help of their experienced team.
Q: How has business been since opening your doors at Specsavers CF Fairview Mall?
Dr. Liew: Rita and I have been thrilled to see the large rush of people coming from all around the GTA to our store. People are excited to experience Specsavers. I believe that affordable, quality eyewear is an important part of this excitement, especially in our current economic climate.
And since opening my clinic within Specsavers Fairview, the consistency of eye exam bookings has been fantastic – especially considering we are building a brand-new patient base. I'm proud to deliver quality and comprehensive care to my patients.
Rita: Being the first Specsavers location to open in Toronto has been incredibly rewarding, and we've had a great start with 30% more traffic than Dr. Liew and I had anticipated.
Q: How has your experience partnering with Specsavers been?
Rita: My experience with Specsavers has been amazing. I've always had a goal of owning my own business, but there was concern about the pressures that come with being an entrepreneur. With Specsavers, I feel I have an incredible amount of support behind me, for which I am grateful. I've found the best partner in Dr. Liew and working with the Specsavers support office has helped bring us together as a team even more. I consider myself lucky to be in this position.
Dr. Liew: Before exploring partnership, I knew very little about Specsavers other than the tag line "Should've Gone to Specsavers" from viral content online. Although the Canadian partnership model is different, I spoke with a lovely Specsavers partner in Australia about the support, culture, and purpose; I felt my questions were answered. I'm truly appreciative of the support I receive from Specsavers, including those who helped lay the foundation for us when we first opened our doors. Being in a partnership means that we're working together to reach a common goal, so we're always sharing our feelings and ideas to help us get there.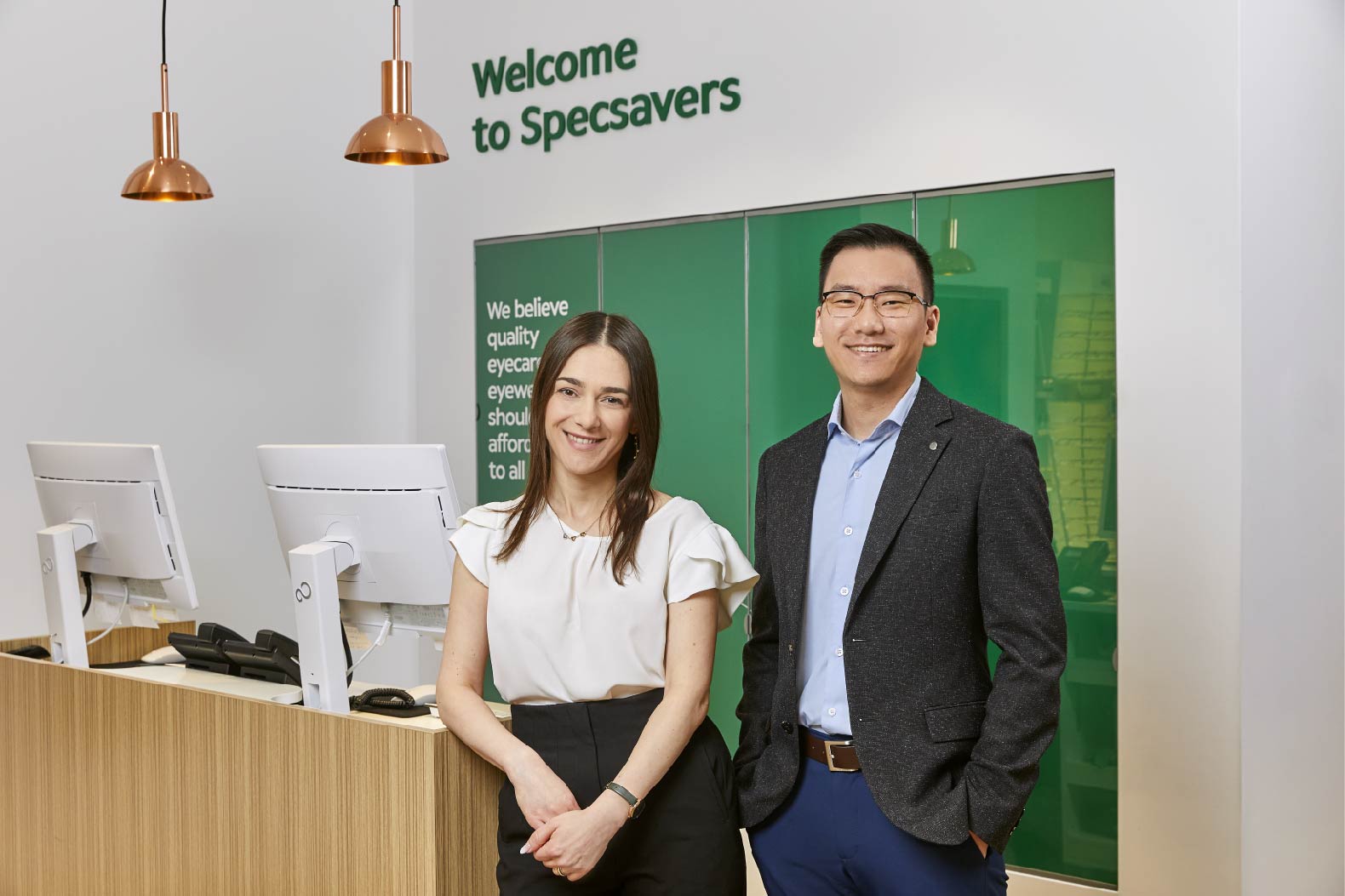 Dr. Liew, OD and Rita Charchyan, RO, partners of Specsavers CF Fairview Mall Toronto
Q: What inspired you to become a business owner?
Rita: I come from a family of entrepreneurs and my father was my role model growing up. What stands out to me about Specsavers is their philosophy and values to make eyecare and eyewear accessible to all, aligned with my own.
Dr. Liew: When I started working as an associate optometrist in Canada, I'd always try to find ways to improve processes in the clinic – whether it was for the patients, doctors, or team. Often, everyone was stuck in their own place, and my changes would not be implemented. My better half was the one who pushed me to consider becoming a clinic owner to conduct business on my own terms.
Partnership with Specsavers checks many boxes. I was able to own shares of an optical retail store with a retail partner and start my own independent clinic at the same time. Financially, the opportunity made a lot of sense. Layering this with their excellent technology, investment in their partners and patients, and marketing, makes Specsavers incomparable.
Q: What, if any, barriers stopped you from starting your own business sooner?
Dr. Liew:  Before, my main concern with opening up a clinic of my own was always how it'd affect my family's quality of life. With Specsavers, the start-up cost contribution and partnership model mean that a lot of the uncertainties and challenges of opening a business reduced. The timing and opportunity were right for me to proceed.
Rita: I always wanted to start my own business, so I was excited by the opportunity to minimize my start-up costs of ownership. It means I can focus on growing my business.
Q: What are you hearing from patients and customers at your location?
Dr. Liew: Our patients love all the technology in the clinic. Very often, we will get comments that certain testing or use of technology in their standard eye exam is new for our patients.
We've also seen a large number of Specsavers customers who lived in other markets, such as the UK. They're so happy to see that Specsavers, a brand they know and trust, is in the Canadian market.
Q: What would you like to tell someone considering joining Specsavers Fairview Mall or elsewhere in the Specsavers network?
Rita: For anyone considering Specsavers, I'd say that you're not joining a company, you're joining a big community! When we were first exploring and considering Specsavers, I reached out to a Specsavers partner in Australia, who said 'just do it!' It's a great place to be, it's very rewarding and you have constant, positive support.
Dr. Liew: For any doctors thinking of starting their own independent clinic and partnership with Specsavers, I'd encourage you to talk to a local partner. We all share a common goal of helping our patients see their best by providing quality eyecare. If you want to join a network of like-minded doctors, pop over and have a chat!
For potential staff, eyecare consultants and opticians, you'll be joining a hard-working and caring team. Each location is like a community, and we are here for each other.
Find out if partnership with Specsavers is for you. Reach out to the Specsavers Partnerships Team at enquiries.ca@specsavers.com.
 This Post is Sponsored by Specsavers.