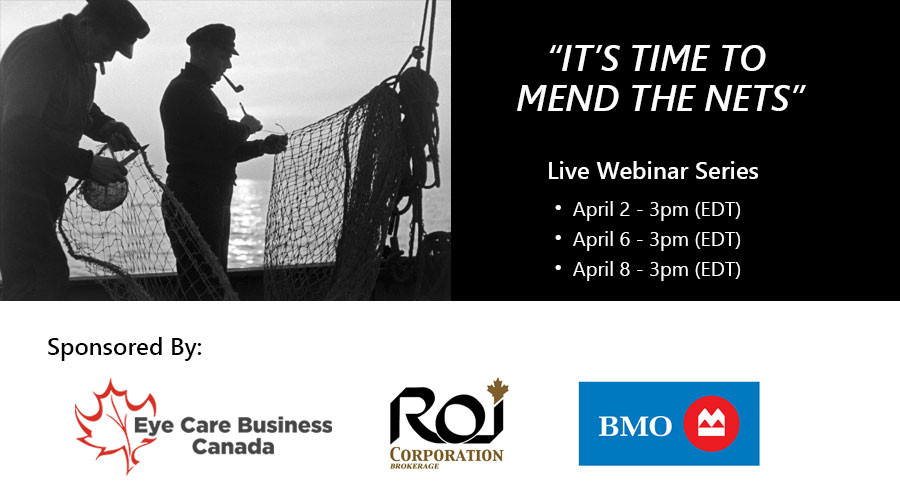 Practice Advice for Turbulent Times
"When fishermen can't go to sea, they mend their nets."
 There are plenty of tasks related, and even essential, to the success of your practice. This quote reminds us of the importance of forward momentum, which in turn can ensure you return stronger than ever, ready to meet the challenges ahead.
Eye Care Business Canada have teamed up with BMO Bank of Montreal and ROI Corporation, Canada's largest health care business brokerage, to provide a live webinar series that will help you make the most of these challenging times and help prepare your future.
We are offering complimentary educational webinars on three topics of particular relevance to these trying times, delivered by industry experts. Audience is invited to put questions to the speakers.
The Webinars will be co-hosted by Jackie Joachim, COO of ROI Corporation and Dr. Glen Chiasson, Host of Eyes Wide Open, a Canadian podcast for eye care professionals published by Eye Care Business Canada.
---
Keeping Employees Engaged and Motivated
The closure of offices has been a wake-up call for the importance of a strong culture. It is crucial that practice owners do not succumb to the panic. Employees look to their employers for leadership and model their behaviour, especially in times of crisis. The focus of this session is to help you keep your employees calm, engaged and informed. Practice owners will benefit from the tips and tools to keep their teams motivated while the office is closed.

Presenter:  Nava Sarooshi
Motivating teams to achieve results is Nava's passion. She has run various workshops and consults with teams who are looking to achieve higher performance. Nava is also the President of MDP Corp, a temporary personnel placement agency.
Thursday April 2, 3PM (EDT)  
---
Managing the Practice's Financial Health During Troubled Times
As a typical "black swan" event, COVID-19 took the world by surprise. Understanding the potential impact on the value of your practice and managing the financial risk associated with office closures is critical. This session will help you focus on the financial factors, especially as they pertain to the practice's profitability and value.
Presenters:
Romal Bryce, Head of Healthcare Initiatives BMO
Romal oversees BMO Canadian Business Banking's go to market strategy in the field of healthcare professional financing. He has been a financial services professional, primarily at Bank of Montreal, for 20 years He has held various sales, underwriting and risk-related roles in both retail and business banking.
Jackie Joachim, Chief Operating Officer for ROI Coporation
ROI specializes in assisting healthcare professionals in the Optometry, Dental and Veterinary spaces appraise and sell/transition their practices.
Monday April 6, 3PM (EDT) 
---
Key Legal Issues Affecting Practice Owners
This is the time to look at all the legal factors that affect your clinic. This session will discuss the importance of key documents such as associate and employee agreements, partnerships, incorporating and leases.
Presenter:
Artem Kobzev,  LLP Tax Chambers
Artem's practice focuses on providing individuals and closely-held corporations with a broad range of legal services, including personal tax planning, corporate tax planning, estate planning, business succession planning and asset protection. He frequently works with owner-managers to develop and implement the strategies and structures that will enable them to meet their specific needs.
Wednesday April 8, 3PM (EDT) 
We look forward to e-meeting you at the webinars.