NewOptometrist.ca puts the spotlight on Zero to Five Pathfinders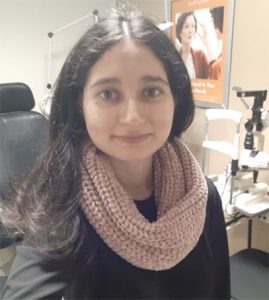 Sana Owais. OD, F.A.A.O 
Dr. Sana Owais completed both her Optometry degree and her residency in low vision rehabilitation from the University of Waterloo. During her optometry training she was recognized with the FYidoctors Practice Excellence Scholarship and the Gold Key International Optometric Honour Society Award. She also received her Fellowship with the American Academy of Optometry (F.A.A.O) designation.
Previously she completed a Honours B.Sc. degree from McMaster University where she graduated summa cum laude and with Deans' Honour. She is currently providing care to patients in Mississauga and Brampton. In her free time she likes to go on hikes and explore new geographical sites. 
 What is something you have done in your practice to set you apart? 
Although not very uncommon, I have designed and collected informational sheets and brochures for patients on common topics (e.g. dry eye, ocular allergies, hordeola, flashes/floaters) and I give them to the patients when I am educating them on their visual concern. I feel it is important for patients to leave with written information in case they forget something, there is a language barrier, or if they feel over-whelmed with all of the information delivered during the exam. Therefore, they have a hard copy of written material to take home and review on their own time.
What metrics do you track in order to gauge your success?
We can improve only what we measure. One metric I measure is related to contact lenses. For example, I track the number of contact lens fits, types of fit (toric, multifocal, coloured lenses), most popular contact lens brand, and most popular contact lens modality. In the future I am aiming to track contact lens capture rate, revenue per contact lens fit, and revenue per contact lens sale. It is important to track metrics in order to maintain a healthy business and evaluate trends.
What business books would you recommend other ECPs read? 
I haven't read these optometry business books myself yet, but they are on my reading list:
201 Secrets of a High-Performance Optometric Practice by Bob Levoy
But I Don't Sell: An Eye Care Professional's Guide to Being More Persuasive, Influential and Successful by Steve Vargo
Make Time: How to Focus on What Matters Every Day by Jake Knapp
What advice would you give a new grad today? 
I would recommend to learn to how to do a basic eye exam in the top five most commonly spoken languages in the area you practice. Connecting with patients and their families in their native language really opens doors for building patient rapport and building more referrals.
Last indulgence? 
My last random indulgence was Subi Super juice from the supplements aisle at Wholefoods grocery store. It is a pulverized  powder of 20+ vegetables (mostly greens). Although, the taste was unpalatable at first, it has grown on me! I feel of all of the powdered superfoods I have tried before, this one has improved my energy levels and digestion the most.  I look forward to breakfast every morning!
Favorite past-time/hobby? 
My new favourite hobby is making mocktails. I'm learning how to make virgin mojitos, coquitos, and watermelon margaritas. Mocktails can be healthy, refreshing, and fun!
Describe your perfect day
A day packed with new and exciting activities and learning new skills: e.g. belaying, forest bathing, aromatherapy, adventuring to new geographic sites, taking a hot-air balloon ride, and ziplining. Of course, not all in one day!
There was a lot of good fishing where I was in New Brunswick. I used to love fishing all the time. Sometimes the doctors would also take me out snowmobiling with them, so that was a lot of fun.