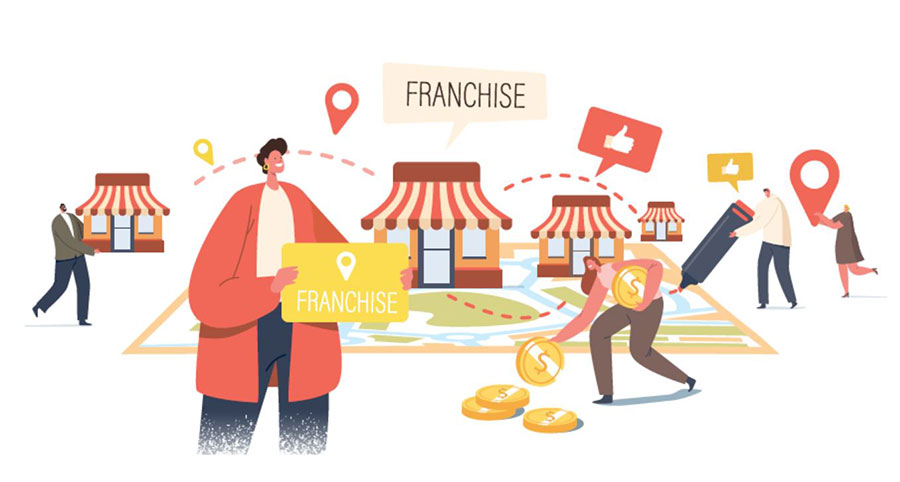 Eyecare professionals who want to start a business but are hesitant to go it alone can opt for a hybrid solution: franchising. This business model allows you to rely on a solid partner while remaining the owner of your business.
In Canada, franchises are the twelfth largest industry and employ about one in eight workers. "Franchises are found in most economic sectors, including the optical industry," says Kenny Chan, Vice President, Content & Marketing at Canadian Franchise Association (CFA).
A number of companies, such as Pearle Vision, Specsavers, Kanda Optical and the Eyeglass Warehouse, are using a franchise structure. "It's a good business model for an entrepreneur who wishes to start their own business, with the help of a partner," says Chan. "They can use the intellectual property of a well-established brand and benefit from multiple services, while remaining the owner of their business."
However, the franchisee must adhere to certain rules or standards. The franchisor will generally require that products and equipment be purchased from specific suppliers and will impose certain standards to ensure that customers receive essentially the same service at each franchise location.
Financially, the franchisee must pay a franchise fee upon signing the agreement. Other start-up costs may also be required, such as construction costs, interior design, equipment purchases and inventory. After that, the franchisee must pay annual royalties for the use of the brand and for national advertising that is provided by the franchisor. Many other royalties can be added.
In exchange, the franchisee receives a range of services, from an integrated supply chain to marketing, accounting and equipment upgrades.
Investing in the Entrepreneur
Approaches and costs can vary between franchisors. Specsavers has had great success in recent years by covering the expense of building new stores rather than having the franchisees bear the cost. This approach requires an investment of $500,000 to $700,000 per store, according to Specsavers. The per store investment by Specsavers is not a loan, but the company obviously expects to pay itself back over the years through various franchise fees. Franchisees pay only $25,000 and receive the keys to their business. In April, the company announced a $25 million investment to open 50 franchises in Alberta.
"We know it might take 10–15 years to recoup this kind of investment, but it allows us to help a promising professional start his business," says Mike Protopsaltis, Partnerships Director at Specsavers.
Such a gamble requires careful selection of the opticians, optometrists or retailers who will go into business under the British giant's banner. "Our selection process is very thorough, and we are really looking for professionals with the mindset of an entrepreneur, and not of an employee," says Mike Protopsaltis. The franchisee must be a good communicator and, above all, be passionate about their work. The franchisor expects customers and associates to be treated with great care and attention.
A Hybrid Model
IRIS The Visual Group is gradually shifting its former franchise formula into a partnership approach. "Our new model is very similar to the franchise model, but the ownership of the business is shared between IRIS and the eyecare professional," explains Dr. Daryan Angle, Vice President of Business Development. IRIS and the entrepreneur create a corporate entity and sign a shareholder agreement. IRIS can own between 51% and 95% of the ownership, while the optometrist or optician can retain between 5% and 49%.
"Rather than paying a start-up fee, the entrepreneur buys a certain amount of stock in the business, which is priced according to the value of the business," continues Angle. If the eyecare professional wants to break the agreement, they can sell their shares under certain conditions.
The eyecare professional is granted exclusivity in a territory. They must pay an annual fee for the use of IRIS services, which includes 3% of net sales for administration and 4.5% of net sales for national marketing. The entrepreneur must also invest at least 1% of net sales in local marketing. However, the local marketing expense can be made in any way the entrepreneur deems most appropriate for their market.
"We believe this model allows the ECP to use their entrepreneurial abilities to grow their business in his market, while benefiting from a ton of services offered by IRIS," says the vice president.
Being Careful with a Commitment
Signing a franchise agreement is a very important decision for an eyecare professional. And it's not always easy to get out. These contracts have a specific duration and are often accompanied by non-competition clauses. If an ECP leaves the franchisor, they may not be able to practice in the same territory for a considerable period of time. It is therefore important to understand what you are getting into.
Chanel Alepin, a lawyer in franchise and business law and a partner at Alepin Gauthier, points out that you should not expect to negotiate every aspect of such a contract. "In general, franchisors propose fairly standard agreements," she says. "If you see several things you don't like in an agreement, it's probably because that franchise isn't right for you."
She advises prospective franchisees to never sign any document without reading everything and especially without consulting a franchise law professional. This even applies to the non-disclosure agreement, which franchisors often require at the beginning of discussions. "Make sure you understand all aspects of the agreement and don't hesitate to ask questions of the franchisor and your lawyer," she suggests.
She also suggests researching the franchisor. Is it a well-established company or a new one? Is its intellectual property, the greatest value of a franchise, well protected? Is it involved in litigation? How does its offering compare to other franchisors (entry fees, royalties, territorial exclusivity, etc.)? A good accountant knowledgeable in franchising is a valuable asset in this regard. Optometrists and opticians should also make sure that the franchise's business model complies with the rules of their professional order.
"Above all, these entrepreneurs must ensure that they will be able to meet the financial obligations imposed on them by the franchisor, while remaining very conservative in their projections," concludes Ms. Alepin. "It must be a win-win relationship."