The last 4 months have been tough for small business owners across the country and extra difficult for hyper-personalized industries such as eye care. Clinic owners now have to deal with two massive elephants in the room:
3 months of lost revenue
Increased costs (cleaning, PPE, etc.)
How to get revenue back to normal and decrease costs?
The answer to this question is not straightforward, and there is no one size fits all approach. However, clinic owners are using technology now more than ever to build a foundation which helps them keep a constant flow of new customers and automate a lot of manual work.
Below are the top three strategies that you can use to attract new patients, convert searchers into paying patients, and to automate front desk work.
1. AUTOMATE REVIEWS AND REFERRAL GENERATION
More than ever, prospective patients will do a thorough search on Google before choosing a clinic, and if they don't look online, it is because they heard about a business through a friend or family. Luckily, clinic owners can use technology to stand out online and tap into current customers for high-quality referrals. Here is how:
Set up automated review generation software. This software will allow clinic owners to collect positive reviews from every new patient. Once these reviews start to pile up in a couple of months, your clinic will rank higher for their solutions and appear much more attractive online.
Clinics can easily tap into their customer base and set up a referral system that prompts patients to refer anyone they might know who needs services clinics offer. In order to streamline this process, invest in automated referral software.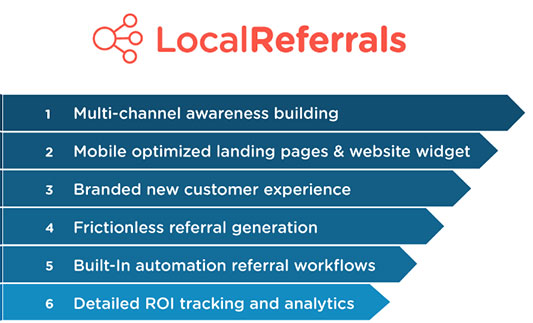 A prospective patient can find a clinic because of their great online standing or because they have been referred by a friend or family member. Regardless, they need a way to easily book an appointment or else they will look for someone else.
2. GIVE PATIENTS THE OPTION TO TEXT
 The truth is, more and more patients are looking for an easy way to book an appointment or inquire without picking up the phone. Each clinic needs to be able to support text messaging as an option for patients, or they will simply find someone who does.
Clinics should consider implementing chat widgets on their website so that a prospective patient can text in with any questions and end with a booked appointment. A clinic must have the backend technology in place to respond to these inquiries and convert prospects to patients.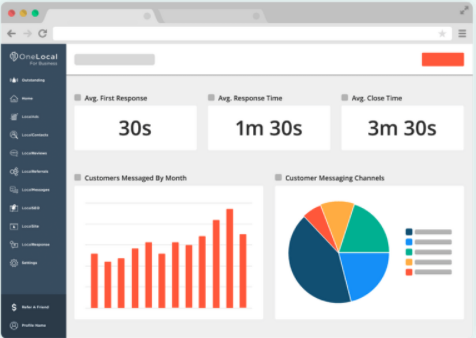 Some patients still prefer to pick up the phone, which is perfect because that is what receptionists are paid for… But what happens when they miss a call or call after hours?  Is the patient gone forever? Not if a clinic has an AI-powered answering software to pick up the slack.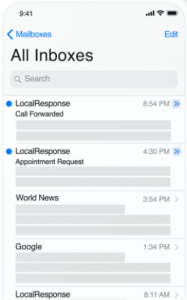 This type of software has voice recognition embedded in it to ensure that a patient can have a natural conversation. In this conversation, the patient will have the ability to ask questions and even book an appointment. This way, no call, and no prospective patient will ever be missed again.
3. MAKE INTAKE AND PAYMENTS CONTACTLESS AND AUTOMATED
Clinics need to ensure they are keeping their staff safe in this new normal. If they can ensure that the front desk staff never has to be in contact with a patient all the way from intake to payment, why not do it?
With social distancing software, a clinic can send check-in links via SMS before appointments, notify patients when it is time to enter the clinic via SMS, and manage the entire patient queue via virtual waiting rooms. When the appointment is over, send a link via SMS or email to collect payment. This will reduce the risk for front line staff and reduce manual work coordinating appointments.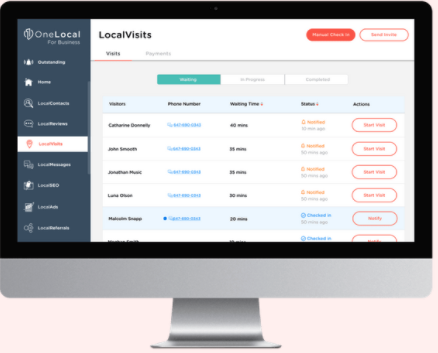 Find social distancing software that integrates with your EMR or current payment software.
WHAT'S NEXT?
A lot of this new information and technology can be daunting for a clinic owner to learn about and manage. This is why OneLocal is here to help. If you simply want to learn whether this technology is a good fit for your practice, click here to learn more.
About OneLocal
OneLocal helps thousands of small businesses across North America get more customers with a series of best-in-class and affordable marketing automation tools. As part of an effort to help restart the economy, OneLocal is currently offering many of their tools for a fraction of the price and creating new tools to help clinic owners operate more efficiently. They are a Toronto-based tech company that has been around for over 5 years and is backed by the same company that backs Airbnb.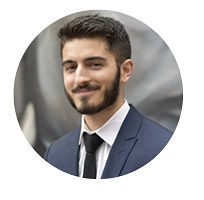 MATTHEW CARNEVALE
Matthew Carnevale is the VP, client relations for OneLocal, based in Toronto.
With safety now being top of mind for clinic owners, employees, and patients, it is important that you provide an experience that makes your customers feel safe. Find out how OneLocal has been helping clinic owners implement digital check-in, contactless payment, and virtual waiting rooms through LocalVisits by filling out this form:  https://info.onelocal.com/ECP