NewOptometrist.ca puts the spotlight on Zero to Five Pathfinders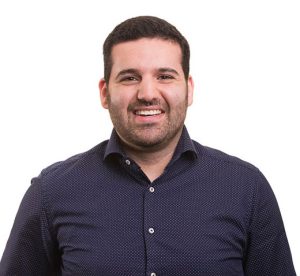 By Jaclyn Chang, OD
Dr. Yehia Jadayel talks about his journey to becoming an optometrist, his current work situation, and a bit about himself!
Jaclyn: Can you tell our audience about your background and why you went into optometry?
Yehia: In high school, I thought about going into engineering but my family's full of engineers, so I wanted to try something different. Since I was pretty good at science, I looked at going into the healthcare field.
I went to the University of Ottawa for Biomedical Sciences. I didn't know I wanted to be an optometrist until my second or third year of university, because I was originally interested in med school and was just looking at my options in general. I also looked into other healthcare professions, but there wasn't anything else that really excited me.
Optometry is cool because it combines physics (optics) with healthcare and there's also a business aspect. I talked with a few people, did some research, and decided to apply for optometry school. It was kind of late into my third year and there was a deadline to apply.
Reading week was coming up and I planned on finding an optometrist to shadow during that week. Then, I ended up getting really sick and wasn't able to shadow anyone.
While I was back in school after reading week, I must have gone to so many different clinics. Some of them agreed to let me shadow and then cancelled the day of. I was turned down so many times and I was running out of time. I really needed a letter of recommendation as well.
My grandfather's optometrist, Dr. Fred Campbell, gave me my last chance. I showed up at his office really late at night. It was still open and I told him I was an undergraduate student looking to apply for optometry and really needed to shadow. He agreed instantly and even let me pick the date to come in.
Dr. Campbell helped me out a lot and made things easy for me. I think it's funny how that worked out because if it wasn't for that, I would have run out of time. I applied to Waterloo Optometry, and I got in.
I'm glad it worked out because being an optometrist is a great job and I enjoy it. I'm very patient care-centered, so I like doing my very best for patients.
Jaclyn: I know that you worked in New Brunswick right after graduation and recently moved back to Ottawa. How did the job search in Ottawa go?
Yehia: There were a lot of positions available. I interviewed at four locations really quickly. I had already been talking to a few locations when I was in New Brunswick, getting ready to come back to Ontario. When I got back to Ottawa, I sent my job application to a few more clinics and they got back to me quickly as well.
I talked to and saw a few locations. I was mostly offered fill‑in days. There was only one location that wanted full-time and it was still between two opticals. The interviews went well – I think as an optometrist you're interviewing them as much as they're interviewing you.
When I was looking for a job, I didn't have anything particular in mind, so I was able to keep my options open and see what private practice vs. opticals had to offer. For that reason, it was relatively easy and people were eager to fill their days.
Jaclyn: Where are you working now and how are you liking it?
Yehia: I'm working in two locations right now. They're both opticals and there's a few differences compared to when I was working in the full scope practice in New Brunswick, but I'm enjoying it.
I knew if I worked in an optical, I'd potentially have less equipment. I'm missing Optomaps and OCT, so there isn't as much testing and analysis. The patients here in Ottawa are also a bit healthier on average; there was an older demographic where I worked in New Brunswick.
Jaclyn: Let's talk a little bit more about you. What do you do in your free time?
Yehia: Well, that's changed a lot during COVID. I like hanging out with family and playing video games or outside.
There was a lot of good fishing where I was in New Brunswick. I used to love fishing all the time. Sometimes the doctors would also take me out snowmobiling with them, so that was a lot of fun.
Jaclyn: What's your favorite movie?
Yehia: Independence Day is one of my favorite movies. And the Batman movies, the recent ones with Christian Bale. I also really like documentaries.
Jaclyn: What's your favorite food?
Yehia: Miramichi was the small town I worked in in New Brunswick, so we didn't have a huge variety of cuisine – it was a lot of pizza, burgers, and hotdogs. Whenever I went back to Ottawa, I needed to go to three places: a shawarma place, a sushi place and Popeye's Fried Chicken. Those are my favorite. Plus, mom's cooking right now.
Jaclyn: When was the last time you laughed?
Yehia: [Laughter] Right now. Talking to you.
Jaclyn: What would you do if you won ten million dollars?
Yehia: I'd buy a really nice house. I'd buy my mom something really nice. Then I'd save or invest the rest and think about what I want as I get older.
Jaclyn: If you had a time machine, what year would you travel to and why?
Yehia: I love history. I want to go back to multiple periods in time and see how things were back
in the day. There's only so much you can learn from documentaries and reading about
history, so it would be amazing to actually be there.
If I could travel forward in time, I would like to see how far technology is going to take us in the future.
Jaclyn: Thanks so much for your time Yehia – it was great to learn more about you!