NewOptometrist.ca puts the spotlight on Zero to Five Pathfinders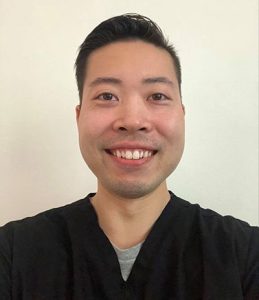 PathFinder Spotlight:
Brian Yeung
Optometry:  Illinois College of Optometry (2013 – 2017) 


Undergraduate: Ryerson University: B. Sc.  – Biology (2008 – 2012)
Dr. Yeung is currently practicing in Ontario.
By Jaclyn Chang, OD
Before I completed my optometry degree at the University of Waterloo, I spent one year at the Illinois College of Optometry (ICO) in Chicago. My next-door neighbor at the ICO residence was Brian Yeung. We've managed to keep in touch over the years and recently we had the chance to catch up. The following is the conversation we had:
Jaclyn:  Tell our audience about your background. Where did you go to undergrad? How did you get into optometry?
Brian:  I went to Ryerson for Biology, and I went through undergrad not knowing what I wanted to do.
I knew being in science, I would have to either go into some sort of medical profession or research. I realized very late in my last semester of fourth year that I didn't like the research side of things – laboratories, testing, etc., so I decided to go the medical route. I then volunteered in various medical settings to help me figure out what I wanted to do.
I worked at my aunt's pharmacy and volunteered with an optometrist. That's when I realized that optometry could be a lifestyle for me. I liked that it was a nine to five occupation and I really enjoyed seeing how personable the optometrist was when dealing with patients.
Over the next year while I was doing the prerequisite courses for optometry school, I had paid work at the office where I had volunteered, dispensing and doing front desk work. I worked with the staff and met patients, and everyone was always so happy to be there.
Jaclyn:  How do you think that year that you had off translates to how you practice today?
Brian:  I'm an introvert but working at the front desk during that year pushed me to be more social and get out of my comfort zone. On the fly, I learned how to socially interact with people and make them feel comfortable because they're there to get help from us. In a medical profession, interactions and the comfort levels of the doctor-patient relationship are so important.
I was also able to get a look at how the other side of the practice works as well, the admin stuff. I did OHIP remittance, sent error reports back, booked appointments, and answered phones. That taught me to appreciate what the front desk staff has to go through every day. I understand how frustrating it can be sometimes. Being a doctor now, I don't feel that disconnect; I don't want the staff to feel like there's that disconnect.
Jaclyn:  What's your favorite specialty within optometry?
Brian:  I'm the doctor that likes the social aspect of practicing. There's maybe not a particular specialty that I'm really invested in at the moment, but if the situation calls for it, I'll do what the patient needs.
When I first came out of school, I really enjoyed glaucoma, but there were some limitations with where I was working not having the technology available. Now, where I work in Oshawa, we do have a Humphrey field, OCT, and Optomap.
In Oshawa, we also have meibography and recently got a TempSure machine. It's nice to be part of an office that has the ability to treat these things. Even if I'm not the one to do the treatments, I like being part of a network that allows me to refer to my colleagues.
I have a very personal relationship with dry eyes. At ICO, they did the full workup on me and found out I had pretty bad dry eyes. I even had Demodex at one point. They treated me for it; eventually they put me on Restasis and then Xiidra, when it came out. I did have the taste side effect from Xiidra so I ended up staying on Restasis for a year and realized I wasn't needing artificial tears as much.  I went from six times a day to two.
Dry eye is a great specialty to be involved in within optometry because it affects a majority of people and it's something we can treat. It's definitely an area I can get more into in the future.
Jaclyn:  Do you have any advice from your work experience over these past couple of years that you can share with new optometrists?
Brian:  I've heard this and it's the same thing I would tell others: Don't be afraid to admit that you don't have all the answers. Patients come to you looking for advice and solutions, but at the same time, if you don't know the solutions, don't lie to them. Don't hesitate to bring the patient back for a follow up, because it shows the patient that you care and you're doing what you can to figure out the problem with them. Patients appreciate you more for your honesty.
I also wouldn't necessarily worry about cost to the patient – if they have to come back and pay for a partial or a test, you're doing what's best for them. You've worked hard to earn your title as a doctor and patients come to you for a reason.
Also, make sure you always keep a good network of people around you to help you out. Don't think that you're the hero and know everything, as I said. If you have a good network of friends, optometrists, and online resources, make use of them.
Another piece of advice is to just be personable with your patients. Take the extra two minutes to talk to your patients. It's not just, 'Here's the problem. Here's the answer. Goodbye.' Taking that one extra minute to even tell a joke and relax makes all the difference.
Jaclyn:  Can you tell our audience a little bit more about yourself? What's your favorite food?
Brian:  Steak and potatoes, mostly steak, fried chicken too. It's pretty much just any meat.
Jaclyn:  What are your hobbies? What do you do outside of optometry?
Brian:  I love cooking; you can see that on my Instagram. I love anything to do with food. You have to eat anyways, why not put some good stuff in you? I love the creative aspect of cooking. It's very therapeutic. That's my version of therapy. Cooking and eating brings me to my happy place.
I also play a lot of sports, and I've been working out a lot more when I'm at home, since I can't go anywhere. I bought a kettlebell and that's the best investment I've made.
Jaclyn:  What's your favorite sport to watch?
Brian:  These days, the Leafs hockey because we're doing well. A couple of years ago it was the Raptors because we won. All my life, first things first is baseball. I play baseball too.
Jaclyn:  What's your favorite movie or a TV show, or both?
Brian:  I'd say Inception, but there's too many others as well. I don't have a favorite TV show, but I would say the Sherlock series is one of the better ones.
Jaclyn:  What's your favorite place that you've traveled to? Or where would you want to travel to, when we can again?
Brian:  Southeast Asia – I definitely want to go. I've never been, but I want to go there because I know your money goes really far and there's so much good food. I'm not allergic to anything. I love spicy foods, so I'm down to eat anything and everything there.
Jaclyn:  Thanks so much Brian! It was really to catch up and I really appreciate your time. I'm glad that after one year of school together we're still friends, especially because we have so many similarities in the way we like to practice.