NewOptometrist.ca puts the spotlight on Zero to Five Pathfinders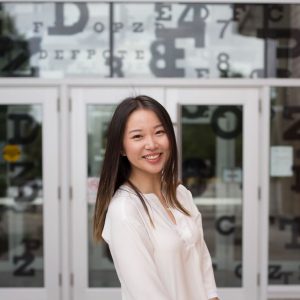 PathFinder Spotlight:
Joanne Han Qiao
Undergraduate Studies
McMaster University in Biochemistry.
Post Graduate
Master of Science, UW, Centre for Ocular Research and Education 
Optometry:
University of Waterloo 4th year  –  2021 Graduating Class
Why did you choose Optometry?
As a child, learning to read the clock was a very challenging task to me, until I was fit with glasses to correct my myopia at the age of five. The ability to tell time suddenly clicked, as I was able to see the increments on the clock hanging on my living room wall for the first time.
However, my myopia continued to progress and I knew something was not right. My advancing prescription became one of my worst fears, and I would always 'rest' my eyes or do 'eye exercises' before visiting the optometrist.
Unlike most kids, instead of the dentist, I was scared to visit my eye doctor. A few years later, I was recommended to be fit with Ortho-K lenses as a new management for myopia, which acted as a source of tremendous hope and comfort to me.
All these experiences increased my fascination with the field of optometry and I am excited to be able to pay forward all the care that I was provided by my optometrist.
What are your future plans?
I would love to be able to return to academia sometime in the future. It would allow me to fulfill my goals to be not only a clinician, but also a mentor and researcher.
What is currently the most exciting thing in your field to help patients?
Along with the changing lifestyle of the 21st century, there is a growing need for dry eye management. It's an exciting field because there are so many treatment and management options we have available now.
As my supervisor used to tell his patients "You don't have to suffer", because there are things we can do about it.
What is your definition of success or what habits make you a successful person?
Growing up Asian, I thought grades were everything when it comes to going down the right path to a successful career. I was very wrong. If you find your passion and meet the right people, then success will follow naturally.
Something that I started doing is to say 'Yes!' to every opportunity I get. I'll know if I truly enjoy doing something only after I give it a try.
So along these lines I have a motto:  Know the best. Recommend the Best.   We try to pass that on to our patients. We try to tell them what is new in treatments, eye wear, contacts…etc.
What is your favorite TV show / Netflix series?
Typically, my favorite TVs shows are in the genre of sci-fi (Marvel) and fantasy (Game of Thrones). However, recently, I fancied a change from my typical taste and found myself binge-watching Bridgerton.
If you had a time machine what year would you travel to and why?
It would definitely be 20 years into the future, when I will become presbyopic. I really want to know if we would have found a way to overcome presbyopia by then.
Tell me something few people know about you?
I have a talent for lucid dreaming and I can remember most of my dreams when I wake up. As a result, I have created a world that I often return when I fall asleep. So, when I tell people I love sleeping, I mean it.