Dr Vishakha Thakrar is the co-founder of Vaughan Family Vision Care.

Expanding on her residency training, Vishakha has a heavy focus on

specialty contact lens fittings and dry eye.

In recent years Vishakha has served as a contributing editor for the journals

Contact Lens Spectrum and the Eye Care Review.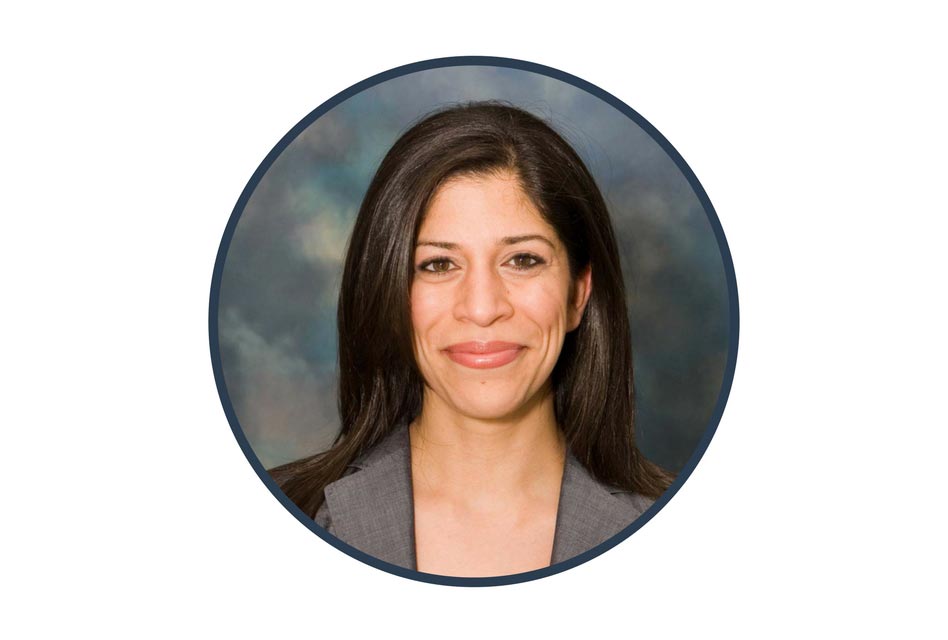 Dr. Vishakha Thakrar
Optometrist, Vaughan, ON
Honours BSc., University of Toronto, 1997
OD degree Ohio State University, 2001
Residency, Cornea & Contact Lens, New England College of Optometry, 2002
What is currently the most exciting thing in your field to help patients?

Corneal cross-linking, in my opinion, has had the highest impact on my patients.  When I started practicing 16 years ago, if a patient was diagnosed with keratoconus as a teenager or young adult, often this meant that he or she would be doomed to needing a corneal transplant one day.  Life is very different for a keratoconus patient today.  Corneal cross-linking can essentially save their vision if they receive the treatment early enough.
What is something you have done in your practice to set you apart?

My business partner, Dr. Angela Peddle, and I set out in 2011 to open a practice that focused on our residency training which included cornea and contact lenses, binocular vision, and vision therapy.  Practicing in the GTA, we recognized that the competition for primary care optometry was increasing dramatically.  There were opticals and optometry offices on almost every street corner, not to mention the number of big box stores and commercial settings.  We opened this practice to differentiate ourselves from the competitive environment, but more importantly to use our training to service our patients.
I am residency-trained in cornea and contact lenses.  I had a vision of having a practice with almost exclusively complex contact lens patients, and I am happy to say that I accomplished that dream.  Early on, I reached out to several ophthalmologists, particularly cornea specialists, and educated them on my training and my passion for scleral and contact lens fitting.  As a result, my contact lens practice continue to grow.
Over the years I have also advanced my practice by focusing on innovations in our field .  I opened a dry eye centre as a natural progression to my contact lens clinic.  My practice was also the first in the country to start using EyePrint© Prosthetic Scleral Lenses (Advanced Vision Technologies).  EyePrint© Prosthetic is a scleral prosthetic device that is created from 3-D printing to produce a highly customized lens.. The types of eyes that this lens can fit is amazing.  I use this technology on really complicated cases, for example –Stevens Johnson's patients, ocular cicatricial pemphigoid patients, asymmetric grafts, and other patients with very irregular scleral and corneal topographies.
What advice would you give a new grad today?

I would advise a new grad to differentiate the way they practice from the time they graduate.  The environment of optometry has changed, and to help ensure success we must differentiate ourselves.  There is a great book by Jack Trout called Differentiate or Die that is a must read for new grads. In fact, this book lead me to opening my practice.
What is your definition of success or what habits make you a successful person?
Rather than giving you my definition of success, I will tell you a story. A patient presented to my office about 4 years ago with RK.  He had a retinal detachment 15 years prior in the right eye, and was correctable to 20/400 with glasses.  In the left eye, he was correctable to 20/50 so was just barely able to drive.  He had been seen by multiple doctors over the years who told him that he would not be able to see out of the right eye again, and essentially this patient had given up.  When he came to my office he wanted the left eye to be fit with a lens, but I felt that he had nothing to lose by trying to correct his irregular astigmatism in both eyes.  I fit both eyes with scleral lenses.  After fitting, he could see 20/50 in his right eye and 20/20 in his left eye.  I cannot express how happy this patient was going from 20/400 to 20/50.
Now after years of wearing the lenses, he is correctable to 20/25 in the right eye.  He considers scleral lenses to be a miracle.  He still cries when he comes to my office.  These are the types of stories that I hear every week, as does everyone who fits specialty contact lenses.
My definition of success is the ability to change a patient's life for the better, and I hope that I do that every day. The best choice I ever made in my career was doing a cornea and contact lens residency.  This training gave me the technical skills to confidently manage corneal disease patients with contact lenses.  And seeing these patients for the past 16 years has given me the empathy to understand their physical and mental struggles.
It is incredibly powerful to put a contact lens on a patient who hasn't seen in 5, 10, 15 years, and provide them with 20/20 vision.  Many patients feel that they have been given their life back.  In those moments, I am so grateful that I can help patients in this manner …and I think that there is little more that I can ask for from my career.
Tell me something few people know about you?
I studied French in Nice, France for a summer when I was in university.  Then when I was in optometry school, I did an externship in Guanajuato, Mexico where I replaced all of my 15 years of French education with Spanish. I'm not sure why I can't just speak both languages….