Graduated from UW in 2001 and toiled a for a very short period for others before succumbing to his entrepreneurial bent by joining the IRIS team as a franchise partner in Waterloo.

Dr Angle rose to the corporate echelon of the IRIS Group and now serves as VP business development for the group.

Keep reading to find out how Dr. Angle envisions his perfect day and which business leader he most respects.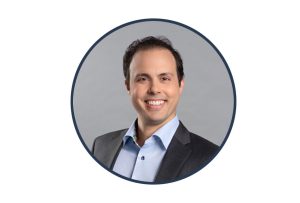 Dr. Daryan Angle
Optometrist
Optometry, University of Waterloo, 1996-2001
Physics, University of Alberta, 1994-1996
Why did you choose your field?

I always had a love and natural inclination for science and could never decide which area was more interesting physics, chemistry or biology. Optometry required all 3 subjects as prerequisites. I also wanted to work with people and own some kind of business. Optometry just fit. On top of all that, when I was a teenager it seemed that my childhood Optometrist was the most relaxed and happy adult ever.
Where do you see your practice / eye care in 10 years?
The confluence of digital commerce, and bricks and mortar will blend the online with the in-person  (omnichannel). That seamless transition between these spaces back and forth will be a key part of my practice in 10 years. Artificial intelligence will also be present, facilitating disease management, and eyewear dispensing thus allowing  for more quality human interaction with patients.
What changes do you see in eye care coming down the pipe?
Telemedicine will play an increasingly important role in servicing remote communities.
What is currently the most exciting thing in your field to help patients?
OCTs have been a game changer for early diagnosis and more precise understanding of retinal health.
What is something you plan on implementing in your practice this year?
Facial scanning technology for frame selection and bespoke custom frames.
What is something you have done in your practice to set you apart?
We have always provided a patient-centred, fully integrated eyecare and retail eyewear experience. The experience has been an evolution over 30 years and continues as technology can be leveraged to address a patient's needs better and with high perceived value.
What business books would you recommend other ECPs read?
How to Win Friends and Influence People by Dale Carnegie
The Personal MBA by Josh Kaufman
Onward by Howard Schultz
Never Split the Difference: Negotiate as if your life depends on it by Chris Voss
The Laws of Human Nature by Robert Greene
21 Lessons for the 21st Century by Yuval Noah Harrari
Ego is the Enemy by Ryan Holiday
What advice would you give a new grad today?
Know your values and find the best environment to practice that fits those values.
What is your definition of success or what habits make you a successful person?
When the work you do doesn't feel like work and you can still provide for and spend quality time with your family.  My success is based on the understanding that time is more valuable than money and decisions in life, must be made to leverage time in the most effective manner.
Which ECP speakers/leaders do you admire?
Dr. Francis Jean the late founder of IRIS was the ECP leader I admired throughout my formative years as an Optometrist and a leader. Now I would have to say I look at leaders outside of our industry. Howard Schulz, the founder of Starbucks is someone I deeply admire as he has built a great brand that is human and refined and continues to innovate and deliver high perceived value to its customers.
What is your favorite TV show / Netflix series?
Peaky Blinders on Netflix. It combines the best elements of a flawed protagonist, period setting ( early 20th century), drama, action and a modern soundtrack that fits.
Last time you laughed?
Tickling my 2.5 year old son, Sullivan. There is nothing more joyous than a belly laugh of a toddler.
What was your latest indulgence?
Dark Chocolate Peanut butter cups from Trader Joe's
What's your Favorite food?
Trini food – Curried goat, and Doubles especially
My mom is from Trinidad so I grew up with that food.
Favorite past-time/hobby?
Listening to Audio books.  Since I discovered Audible I became literate again, having read more books in the past 3 years than the previous 10. I love walking outdoors while listening, often on my way to the office and home.
What's your favorite 80's jam? (or decade you graduated high school in)
1980s
Dancing in the Dark – Bruce Springsteen. I recently watched the movie Blinded by the Light and was reminded of Springsteen's genius.
Wake Me up Before you Go-Go – Wham!  This song makes you want to get up and dance no matter what.
1990s (High school)
Loser – by Beck. The combination of genres and quirky lyrics just blew my mind at the time.
Cannonball  – by The Breeders. I was a grunge kid for sure, a sucker for guitars with pop-py hooks.
What would you do if you won 10 million dollars? What would you do with your practice?
Spend more time with family and friends. I would continue to practice part time as there is no activity more satisfying than seeing patients.
What was the last gift you gave someone?
Gold earrings to my wife for Valentine's day
How have you changed since high school?
I listen a lot more than I speak. Thanks to my wife Jill, I have become way more self-reflective and flexible in my thinking.
Tell me something few people know about you?
I used to perform Slam poetry in Vancouver in the early 2000s.
Describe your perfect day.
Wake up after 6.5 hours of uninterrupted sleep (between 6-6:30am).  Do yoga and meditation for 20 minutes.  Drink a cup of coffee from freshly roasted then ground espresso beans made in my aeropress. Make breakfast for my kids.  Go weightlifting at the gym followed by a sauna and cold shower.  Have breakfast as lunch with my wife at an all-day breakfast restaurant. Go for a long walk somewhere in nature. Play with my daughter and son outside. Go out for dinner with my wife followed by binge watching a tv program we both enjoy.