Having just graduated in 2017, Dr. Abraham Yuen is the youngest Optometrist we have profiled to date.

He was very active at the School of Optometry in Waterloo serving as Vice President of CAOS.

In addition he has volunteered with CNIB and Orbis International.

Dr. Yuen continues to be passionate about Optometry and is a frequent contributor on COG.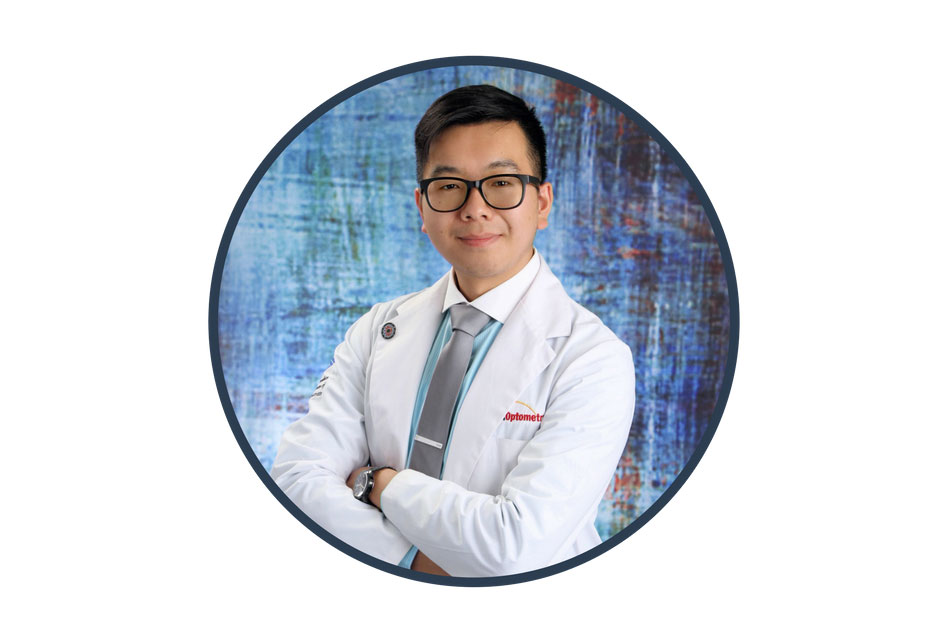 Dr. Abraham Yuen
Associate Optometrist at 3 locations in the GTA
Doctor of Optometry, University of Waterloo, 2017
Where do you see our industry going in 10 years?

I think our industry is going to look quite different in 10 years. Just as AirBnb and Uber have revolutionized their respective industries, disruptors such as Warby Parker or Sightbox are poised to make a big splash in the optical industry if they haven't already. Change is inevitable- telemedicine and disruptive technologies are here to stay. The key is to get ahead of the game and be the disruptor so that we are at the forefront of change rather than behind it. Of course, measures need to be put in place to ensure that the public is well protected and that eye care professionals carry the same professional standards of care.
What changes to eye care do you see coming down the pipe?

I see individualized eyecare as the BIG thing coming down the pipe. Consumers want to receive care that is personalized to their needs. Already, we see the advent of individualized eyecare through technologies such as custom wavefront LASIK making a splash in refractive surgery. The advancement in 3D printing technology may one day make personalized eyewear a same-day service in our dispensaries. Lastly, nanotechnology will play a role in personalized medicine, delivering cell-specific therapy in treating diseases.
What is something you plan on implementing in your business this year?
I want to incorporate slit lamp photography routinely into my patient care. The implementation of EMR has made charting more efficiently, but drawing a lesion can still be rudimentary and difficult. Snapping a photo of anterior seg not only helps to monitor changes, but patient education would benefit as well. Rather than describing what a cataract or corneal abrasion is, showing a patient what we look at in their eyes is a great teaching tool.
What is your definition of success?
To me, success in eye care is being able to cater to the needs of our patients and make a difference in their quality of life. Optometry is unique in healthcare that the solution we provide can make a direct impact on our patients' success in school, at work or in their hobbies. It may mean taking an extra minute to understand how they use their eyes in order to enhance their life. For example, I had a 60 year-old male patient unsatisfied with his last pair of glasses. By taking the chair time to thoroughly understand his lifestyle, it turns out he was a commercial photographer and needed his specs to focus in the intermediate range. He walked away with a solution that no one was able to provide previously. Helping a patient maximize their visual potential is very rewarding as an ECP.
What is your favorite TV show / Netflix series?
My millennial colleagues probably think I'm an old soul, but I still hold on to my cable subscription instead of Netflix. I'm currently watching a reality series on Discovery called Jade Fever. It follows a Northern BC family of miner's quest to find the million-dollar Jade boulder. While the show is unscripted and has your typical family drama, it exemplifies true Canadian entrepreneurial spirit as the family puts everything they have on the line to make or break it.
Last indulgence?
My guilty pleasure is a good cup of latte! You will probably find me sipping away on a cup of hazelnut latte with a good book (or a good optometry journal article) to read at a local cafe. Actually, I haven't figured out if my guilty pleasure is drinking latte or the hazelnut part since I can't resist Nutella or hazelnut baked goods either!
How have you changed since high school?
While my sight was always set on optometry throughout high school, few of my friends would have guessed that I would be an optometrist today. Most people would have expected me to become a chartered accountant or find work in the financial district. I immersed mostly in business courses and was actively involved in marketing competitions in Canada and US. I even had a mini start-up that did not do very well and folded within the year. I was known to be the guy into marketing and entrepreneurship rather than the sciences. In a way, they are probably right because running an eyecare practice encompasses a lot of business/marketing skills and more!
Tell me something few people know about you?
I grew up attending a performing arts school in Toronto and had to balance a vigorous schedule of academics with the arts. I took classes such as ballet, hip-hop, tap dancing, drama, miming (it's a real course!), vocals and instrumentals. My years spent in the arts probably helped nurture my creativity. While I do not have time to dabble in the arts anymore, music still plays a role in my life. Fortunately, Toronto has a thriving arts scene, and you can still find me attending jazz concerts and musicals in my downtime.