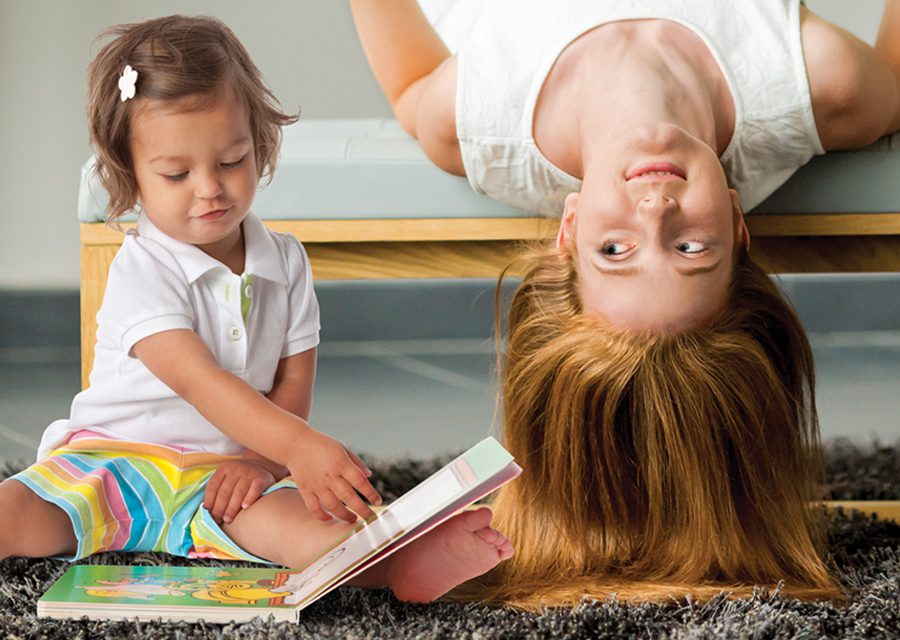 When was the last time a patient phoned you up and asked you, "I was wondering if you could tell me the difference between BLINK STABILIZED® Design and prism-ballast design and how that potentially affects the stability of my vision in eccentric positions of gaze?" It's been a while, right? But why don't astigmatic patients ask this question when inconsistency of vision with traditional toric lenses is historically one of the main reasons why they struggle with wearing contact lenses?  The reason is people don't know what they don't know. BLINK STABILIZED® Design may be established technology to you but for your patient, if explained properly, it could be just the change that takes them from merely surviving with contact lenses to thriving.  Sharing education about unique innovational EYE-INSPIRED™ Designs will make you the essential link between technology and better dynamic visual performance for your patients.  The opportunity to let them know what you know, awaits you if you open the door by asking the right question: How consistent is your vision with your existing toric contact lenses?
-Kent Prete, OD, Calgary Alberta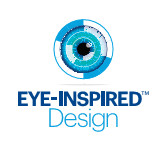 With a design that is easy to fit and quick to stabilize, ACUVUE® Brand Contact Lenses with BLINK STABILIZED® Design can help your patients consistently see their best.
For the past 10 years, ACUVUE® Brand Contact Lenses for patients with astigmatism, including 1-DAY ACUVUE® MOIST Brand Contact Lenses for ASTIGMATISM and ACUVUE OASYS® Brand Contact Lenses for ASTIGMATISM, have relied on BLINK STABILIZED® Design to satisfy patient needs.
It's more than just a catchy marketing term. BLINK STABILIZED® Design was inspired by the anatomy of the eyelids and their dynamic interaction with a contact lens during blinks. Scientists used high speed photography to better understand the lens-lid interaction and figure out how to use it as a force for good—stabilizing and repositioning the lens with every blink.
The result was a completely unique design that has four "active zones" or points of stabilization on the outer central periphery, and a minimal pressure zone under each lid. Symmetrical weighting limits the influence of gravity—and that is critical to how astigmatic patients experience these lenses in their daily activities.
Real-World Vision
Prism- or peri-ballasted lenses can perform well in the exam lane when the patient is upright and looking straight ahead, but these gravity-dependent designs are challenged by eye and head movements outside the office. When the head is tilted 90˚ degrees, for example, to align a golf ball or look under a bed, gravity-dependent lenses rotate about 2.5 times more than BLINK STABILIZED® Design lenses do.¹ BLINK STABILIZED® Design lenses have also been shown to provide greater stability than prism-ballasted lenses for large versional tasks such as looking at the rearview mirror and then back at the road while driving.²
These benefits help patients achieve consistent vision throughout the day, making them less vulnerable to visual discomfort and contact lens dropout.
Avoiding Prism
Due to their uneven thickness, toric lens designs that rely on prism- or peri-ballast can have residual prism in the optic zone. My colleagues and I measured the mean vertical prism in  the central 6.0mm zone of eight commercially available soft  toric lenses.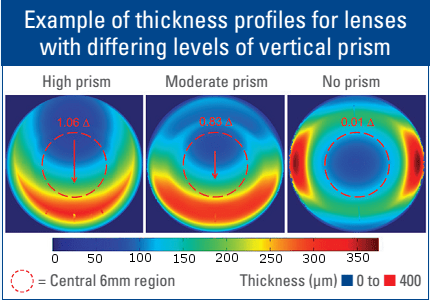 Lenses with BLINK STABILIZED® Design had virtually no vertical prism. The other seven lenses had mean vertical prism ranging from 0.5 ∆ to 1.2 ∆.³
This may be particularly undesirable for patients who wear a toric lens in only one eye. Eye Care Professionals should be aware that an imbalance in vertical prism may create or exacerbate disturbances in binocular vision function.
The Eye Care Professional Experience
Not only can BLINK STABILIZED® Design offer a better patient experience, it also makes it easy to fit
astigmats. ACUVUE® Brand lenses with this design are symmetrical, so they are easy to fit and settle quickly, within 3 minutes. With a high first-fit success rate and wide parameter coverage (more than 98% of spherical and astigmatic eyes can be accommodated by the stock prescription ranges of 1-DAY ACUVUE® MOIST Brand and ACUVUE OASYS® Brand), you can be confident that BLINK STABILIZED® Design lenses will help you meet the needs of your astigmatic patients.
BLINK STABILIZED® Design

Quick to settle—in just 3 minutes
Symmetrical weighting makes lenses quick to settle with each  insertion and helps keep them  stable during blinking
Eye/head movements minimally affect rotational stability
Available in reusable and daily disposable ACUVUE® Brand Lenses for ASTIGMATISM to suit a wide range of patient lifestyle and ocular needs
References
1. McIlraith R, Young G, Hunt C. Toric lens orientation and visual acuity in non-standard conditions. CLAE 2010; 33 (1): 23-26.
2. Zikos GA, Kang SS, Ciuffreda KJ, et al. Rotational stability of toric soft contact lenses during natural viewing conditions. Optom Vis Sci 2007;84:1039-45.
3. Sulley A, Hawke R, Lorenz KO, et al. Resultant vertical prism in toric soft contact lenses. Cont Lens Anterior Eye 2015;38(4):253-7.
ACUVUE® Brand Contact Lenses are indicated for vision correction. As with any contact lens, eye problems, including corneal ulcers, can develop. Some wearers may experience mild irritation, itching or discomfort. Lenses should not be prescribed if patients have any eye infection, or experience eye discomfort, excessive tearing, vision changes, redness or other eye problems. Consult the package insert for complete information. Complete information is also available from Johnson & Johnson Vision Care division of Johnson & Johnson Inc., by calling 1-800-267-5098 or by visiting acuvueprofessional.ca.
ACUVUE®, ACUVUE OASYS®, 1-DAY ACUVUE® MOIST, EYE-ISNPIRED™ and BLINK STABILIZED® are trademarks of Johnson & Johnson, Inc.
©Johnson & Johnson, Inc. 2016
Dr. Hamada is Associate Director, Professional Affairs for Johnson & Johnson Vision Care, Inc.
This article is sponsored by J&J Vision Care Canada.

WESLIE M. HAMADA, OD, FAAO
Dr. Hamada is Associate Director, Professional Affairs for Johnson & Johnson Vision Care, Inc.