Dr. Sophia Leung, in a conversation with EyesWideOpen host, Roxanne Arnal, the tables are turned.  Once an OD student in Dr. Arnal's practice, the student has evolved and honed her clinical and mentorship skills.  Together they explore professional burnout, mentorship and types of collaboration in a forthright discussion.
---
About the Guest

Dr. Sophia Leung has taken an atypical professional pathway following graduation from UW School of Optometry in 2014. After spending some time in private practice, she pursued an Ocular Disease and Refractive Surgery Residency in the US followed by an Advanced Glaucoma and Cornea Fellowship.

Dr. Leung is also a Diplomate of the American Board of Optometry, a Fellow of the American Academy of Optometry (AAO), and a Diplomate of the AAO in the Anterior Segment Section.

Currently, Dr. Leung is the Principal Optometrist at a high volume corneal, cataract, and refractive surgical centre in Calgary and the President-Elect of the Alberta Association of Optometrists.
---
Episode Notes

Dr. Sophia Leung is passionate and thoughtful about mentorship, professional development, and education.

As an OD student, she rotated through many urban and rural clinic settings, including Dr. Arnal's Alberta private practice.

They discuss their personal and professional insights on mentorship, professional collaboration, and the evolution of optometry. They also delve into stress and practitioner burnout and point to a few interesting reads on the topic (See Resource links).

Dr. Leung shares her not-so-typical pathway after graduation that brought her first to private practice and then to an Ocular Disease and Refractive Surgery Residency in Oklahoma, a state with a very wide scope of practice, followed by an Advanced Glaucoma and Cornea Fellowship.

In her current role, Dr. Leung is developing an OD-to-OD referral model the enhance patient access to ophthalmologic care that also increases time efficiency for ophthalmologists.

She explains how the demand for routine vision exams vis-à-vis medical eye exams will evolve and how this exacerbates the need to improve efficiencies to meet the rising demands for patient care

She challenges her OD colleagues to rethink primary care optometry and outlines why primary care will unavoidably migrate to medical optometry.  An insightful 30-minute discussion.

Resources

Click the play button at top of page to listen.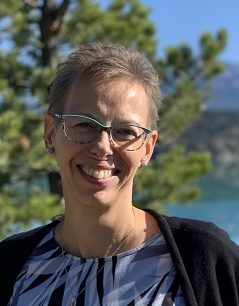 ROXANNE ARNAL,
Optometrist and Certified Financial Planner
Roxanne Arnal graduated from UW School of Optometry in 1995 and is a past-president of the Alberta Association of Optometrists (AAO) and the Canadian Association of Optometry Students (CAOS).  She subsequently built a thriving optometric practice in rural Alberta.
Roxanne took the decision in  2012 to leave optometry and become a financial planning professional.  She now focuses on providing services to Optometrists with a plan to parlay her unique expertise to help optometric practices and their families across the country meet their goals through astute financial planning and decision making.
Roxanne splits EWO podcast hosting duties with Dr. Glen Chiasson.