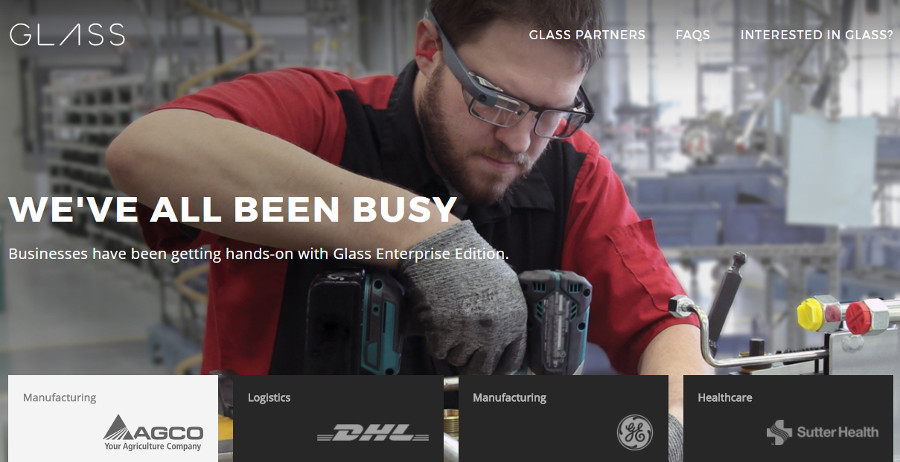 After two years of development, Google is releasing a re-engineered version of Glass designed specifically for use in the workplace, according to Vision Monday. The tech giant made headlines earlier this week by announcing that the new eyeglass-mounted wearable, called the Glass Enterprise Edition, is now available to businesses through a network of "expert partners" that have participated in the development process.
"Workers in many fields, like manufacturing, logistics, field services and health care find it useful to consult a wearable device for information and other resources while their hands are busy," Google said in a statement. "That's why we've spent the last two years working closely with a network of more than 30 expert partners to build customized software and business solutions for Glass for people in these fields.
There are currently more than 50 customers using Glass including AGCO, DHL, Dignity Health, GE Aviation, NSF International, Sutter Health, The Boeing Company, and Volkswagen according to Google.
The Glass Enterprise Edition differs significantly from Glass Explorer, the consumer version that Google pulled off the market a couple of years ago following consumer concerns about styling, privacy and pricing. One of the most important differences is that the Glass Enterprise Edition is designed to be attached to frames, rather than be incorporated into a frame.
The new units also have more power, improved battery life and better processing power so it can support people using multiple applications at once. Other upgrades include an improved camera that takes clearer pictures, including in low light, and connectivity with other devices, such as keyboards. Glass uses a custom build of Android and only comes with a camera app that allows users to take photos or videos and features voice commands and control capabilities.
Google said Glass devices and software are sold and supported exclusively through the Glass Partners network. The Glass Partners will provide pricing based upon customer needs. The cost can vary based on level of software customization, customer support and training required.
Glass is the product of several companies that are part of Alphabet, the sprawling holding company Google formed in 2015 that also houses Nest and Google itself. The Glass product team will spend a lot of their time at Google X, a "moonshot factory" which has labs, hardware expertise and a number of pioneers in wearable computing.
The team will also work closely with the Google Cloud team as well as Google's hardware organization which is still supporting the consumer version of Glass.