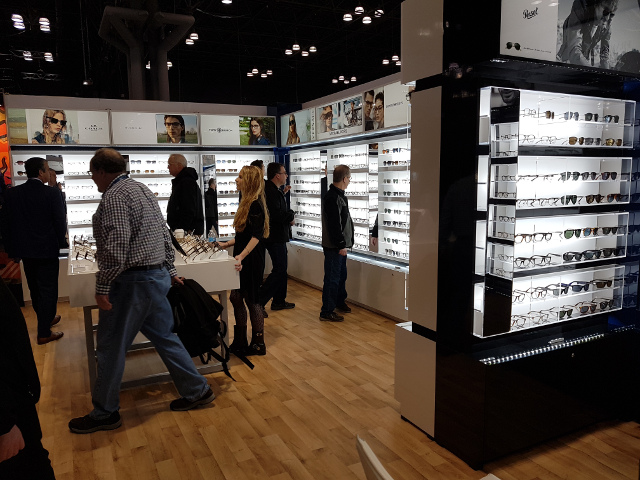 Revamping your optical can create an environment that makes patients want to shop and make a purchase, increasing your revenues.
Last year, my four-OD practice, Wichita Optometry, undertook a revamp of our optical dispensary.
The day I joined Wichita Optometry, September 1, 2010, I thought that the office needed a facelift. The details of how that was going to happen began to evolve six years later in September of 2016. The office felt dated and dingy with golden oak and faux, sponge-painted walls. I wanted patients to walk through the door and experience a bright, cheery and modern atmosphere.
Taking on an optical remodel can seem daunting in the beginning. You need to figure out a budget, establish the look you are going for, find contractors and put in the time to see that everything gets done as you had envisioned.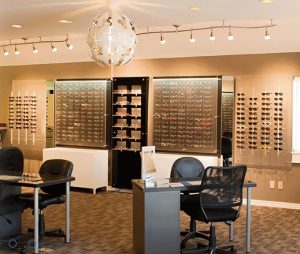 Set Your Budget
The initial budget was $40,000, and we ended up at $45,214. I feel like we have a totally new office, and it was worth every penny!
Identify Key Needed Changes
The first needed office update was new paint for the walls and trim. We have always been attentive about keeping the office clean, but somehow we had overlooked something as simple, yet powerful, as a fresh coat of paint. I went to Sherwin Williams to pick out the color scheme.
We decided on a gray color scheme and white trim and doors. This made a huge difference. We painted the whole office for $15,000. That also included scraping and repainting the popcorn ceilings.
The second thing that needed to go was all the old, clunky, yellow oak optical displays. This made the office look dated and cluttered. A great deal of time went into deciding what the new displays would look like, and who we were going to purchase the displays from. We decided on a streamlined, modern look, and picked LED-lit acrylic displays with wood-backing from Frame Displays. The LED back-lighting, along with the LED track lighting, really helps show off the frames. The acrylic boards allowed for the dispensary to be more open. The total cost for all the new displays, and LED lighting for those displays, was $15,900.
We replaced our old tile in the entry way and patient's bathroom with luxury vinyl flooring, which is a great material because it is easy to clean, has no grout, is low noise and does not become slick when wet. Since we replaced the carpet a couple years ago, we left it. Material and labor costs were a little over $2,000 to redo the entry way and bathroom flooring.
New reception desks are expensive. After looking into different options, we decided to replace our formica with a metal-looking formica to give it an updated look. We also had a company that remodels cabinets come out and paint/glaze all the yellow oak cabinets. This turned out looking fantastic! The total cost to do all of this was $7,000.
New lighting and decorations, such as art prints for the walls, or sconces, accounted for the rest of the budget.
Find a Contractor: Solicit More than One Bid
Most of the contractors that we used we either knew from previous work they did for our offices, or were recommended to us by people we knew. This was one of the most challenging aspects of the remodel. Just because one person recommends a contractor does not mean that they are up to another person's standards. We always had at least two contractors bid the job before we decided who we would hire.
Try to Schedule Construction for Off Days
Almost all of the work was done on the weekends, when we are closed. The benefit of this was it did not disrupt patient flow and we could keep the office open the whole time. We made sure to post signs on the doors that said "Please excuse our mess." However, it required a significant amount of time for the practice owners at the office during the weekends for 10 weeks.
Measure to Assess Effectiveness of Renovation
Before the remodel we were able to display close to 700 frames. Currently, we display around 900 frames. This has allowed us to add more frame lines and expand our sunwear selection.
Frame turnover is the main metric we will track this year to determine whether the optical revamp paid off. We typically turnover frames 3-4 times the total number of stocked frames per year. In addition, our EHR allows breakdown of frame sales, which we will compare year-to-year.
The perception which staff and patients have of the office also is part of the payoff. Perception is reality, and when patients see you investing in an updated look, they are more likely to feel they had a better, more fun experience.
Rightly or wrongly, competency is often equated with appearance. The American way is that if you do not upgrade, and have the newest technology, or newest look, then you are outdated and "not keeping up." That feeling of not being able to keep up then trickles down to all aspects of the office. We hope our opticians will become more energized and excited about showing off the end result of the optical revamp and our new frame lines.
I can say at the end of the process, the revamp was a lot of hard work, but the end result has been great. We have positive feedback from staff and patients, and we feel like there has been a renewed sense of excitement throughout the office.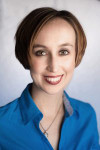 ASHLEY BLASI, OD
is an associate with Wichita Optometry, P. A. in Wichita, Kan. To contact her: ablasi3313@gmail.com