Shopping for office space is like shopping for a house. It is easy to get distracted by first impressions. A beautiful, bright space is tempting, but will renting or purchasing the space give your practice what you need to grow? My practice recently made a move to a new space. Here is how I connected my strategic goals for my practice to the new space we found.
Match Patient Volume to Space
Our old space had distinct limitations. It was less than 900 square feet, far too small for the more than 3,000 patients we see each year. We also lacked prominent street-front views of the office, so people could not see us from the road. Including the doctor that I bought the practice from, we had been in that space for over 30 years, and still people in the neighborhood did not know we were there. We were only attracting one demographic, and we wanted to have a more diverse population of patients.
The well-trafficked corner in West Palm Beach, Fla., where Dr. Jasper moved her practice, Advanced Eyecare Specialists.
To retain patients, we limited our scope of searching to less than five miles. We didn't want to inconvenience existing patients, so we ended up choosing a space less than .5 miles away from our old space, and yet we already have seen a large increase in new patients.
Location, Location, Location
Location is key. I really think you need patients and prospective patients to have an easy-to-see street-front view of your practice. People need to see you as they drive by. If they pass your sign daily, they will think of you when the time comes for eyecare and new eyewear. You need a good sign and good logo that is easy to see from the road to maximize the potential of your location. I have many friends that are successful in business centers with no prominent street-front view, and I am happy for them, but I suspect they would be even more successful if patients could see them more easily.
We chose our location because it is on a street corner that has 26,000 cars drive by daily, according to a feasibility study of the location that we conducted prior to signing the lease. We also chose it because it had the availability to have a very large sign on the corner with our name on it.
Patient Convenience
We currently have eight staff members, so we needed space for those eight cars, plus space for patient cars, and will need more space as the practice grows. We knew we had to have parking or patients would be discouraged from shopping in our dispensary. Our city of West Palm Beach, Fla., does not have much public transportation, so parking matters. We also wanted to find a location close to neighborhoods. We find that our patients like to see a doctor close to home and we wanted to find a location close to their homes. We have people who come to see us from many miles away, but the majority of our patients are moms bringing the family who are from the neighborhood immediately surrounding the office.
Announce Relocation with Bold Statement on Practice Web Site
I knew many patients would visit our web site before making their appointment, so I made sure our site featured the following announcement of our move:
"We've MOVED!
Since 1941 we have been serving our patients in West Palm Beach. As of January 3, 2012, we're proud to announce that we have moved to a newer, larger facility just three blocks away so we can better serve YOU! Please give us a call for directions before your next visit."
Think Long-Term Growth
The large, enhanced optical shop featured at the new location of Advanced Eyecare Specialists.
We thought in terms of the long run when choosing our space. We knew that in our old space we would be limited in the number of patients we could see and would not be able to bring in a second doctor without a second and third exam room. It isn't cheap to expand, but we also knew that with upcoming changes in medical care resulting from health care reform, we needed to be prepared to adapt to change.
Renting Is OK, Too
Purchasing an office space that can become a long-term investment is the ideal, but sometimes it is not possible. In our case, we rented this space we just moved into after searching for a location we could buy for two years unsuccessfully. Our lease is for five years. It typically takes 10 years to recoup the costs associated with moving, so prepare to stay put for a while following your relocation.
Compare What You Have to What You Would Be Getting
The optical in our new space is five times as big and has twice the number of frames and higher-end frames as our old space. We still have the same number of chairs In the optical, but our goal was more shopping space, not seating space. We now have a pre-testing area as well as a separate room for special testing so we can maximize our ability to move patients through the office quickly. We also were able to purchase more instrumentation for better patient care. We now have three exam lanes fully automated with Marco TRS systems, and the entire office uses electronic health records for maximum efficiency.
Delegate Search but Devote Time to Looking
A doctor with a full patient load probably will have difficulty setting aside the needed time to conscientiously shop for office space. In my case, I turned over much of the detailed searching to my husband, who also happens to be my practice's business manager. We looked at more than 20 locations over a period of two years before making our final selection.
Don't Forget: Office Space Must Enhance Patient Experience
You can have all the best instrumentation and best looking office and great selection of frames, but when the patients start coming into the office, the experience also has to be amazing. The beauty of the new space is that we have been able to create systems and efficiencies that make the patient experience one that they will want to return for. At the end of his exam, one of my patients recently said to me: "Dr Jasper, the office is beautiful, and the staff is amazing. The experience you have given me today well justifies the fee you charge." That is what we strive for every day, and the new office has made that even more of a reality. To give our patients time to adjust to the new location, we kept our fees the same for the first six months following the move and then raised fees by $40. Happily, the majority of our patients have made the move with us.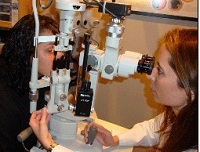 APRIL L. JASPER, OD, FAAO
April L. Jasper, OD, FAAO, is the owner of Advanced Eyecare Specialists in West Palm Beach, Fla. She is featured in a cover story in the Spring 2012 issue of MBA Insights. To contact her: drjasper@aeswpb.com.