There are few jobs that I can think of that demand the level of skill that is required to be effective as an employee in an optometric practice. The ideal candidate will exhibit a strong attention to detail, excel in customer service and sell like a superstar – all the while managing in an often fast-paced environment of ringing phones, walk-ins and pick ups.
How do you attract, grow and keep exceptional staff?
After determining what the needs of the office are, it is also important to reflect on what is most attractive about working in your office. Consider what the alternatives are to working in your office from the perspective of wage and aspiration. From this point of view, there are a number of attractive benefits to working in a health care practice. This type of occupation is gratifying to someone who has a strong sense of accomplishment when they have truly helped someone. Often the working hours are better than some comparable retail positions.
Many of the offices that we work with offer a Health Spending Account (HSA). This is a more cost-effective and egalitarian way to offer insurance coverage to your office, particularly if you are a smaller office with 10 employees or less.
Complimentary Eye Exams are a fairly standard benefit offered in most practices. Not only does it ensure everyone in the office appreciates the value of the eye exam in the practice, it also follows a "practice what you preach" philosophy when it comes to regular eye exams.
We often advise clinics to offer a set number of "at cost" glasses and/or contacts to each staff member. They can use all 3 or 4 pairs for themselves or they can extend the offer to friends and family.  This way, it is fair to all staff members, whether they are single, married, with or without children. For many employees, being able to extend a discount to friends and family provides a sense of feeling important, and that can be very motivating!
We screen hundreds and hundreds of candidates for our clients. One of the most common reasons candidates give for wanting to move to a new position is for "growth" and new opportunities. One of the easiest ways to provide that opportunity is through Continuing Education. We often advise our practice owners to be very clear about this benefit. The clinic is paying for the employee to grow and obtain new skills. The intention, of course, is that the employee will use those skills to improve the performance of the current clinic. The reality is, it is the employee who gets to put those new skills on their resume and there is value to that.  The point is that the employee should recognize this as a benefit that is, and should be, mutually beneficial.
Something as simple as a title with authority can offer a higher sense of ownership to the role and impact performance positively. For instance, consider these job titles; Front Desk Manager, Patient Flow Coordinator and Gallery Supervisor. Reinforce the idea of the responsibility of these titles as you hand off patients, "I am going to introduce you to our Front Desk Manager who will be able to assist you with those appointments and explain the solutions we discussed further."
Considering all the duties and the skills required to be effective in this role, it is advisable to set up compensation that is reflective of that effort. Having a lower base wage is fine as long as a profit sharing bonus structure is also in place. This way, as the clinic performs because of everyone's contributions, everyone reaps the rewards of that success.
One of the fundamental pieces in employee motivation is constant contact with the owner. When the owner draws the line between the result and the employee's efforts on a regular basis, the employee feels encouraged and supported.
Lastly, we recommend that you find out what exactly motivates each of your staff members. While this could be done through observation, it may be prudent to ask the employee directly what makes them feel connected and engaged at work and strive to build in a system that accommodates that.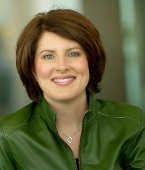 CHRISTINA FERRARI
is the co-founder and managing partner of Simple Innovative Management Ideas (SIMI) Inc. and expert Practice Management contributor for Optik magazine. She can be reached at info@simiinc.com