In his current role as VP, Optometric Partnerships, Dr. Michael Naugle oversees the growth and development of the FYidoctors banner in Canada and is a key figure in recruiting new optometrists. From the company's inception in 2008 up until 2015, he served as Vice-Chairman of the Board of Directors and Vice Chairman of the Advisory Committee.
---
About the Guest

Dr. Naugle has held many leadership positions throughout his career. Since 2011 until 2016, he served as the Optometry Chairperson of the Canadian Coalition of Eyecare Professionals (CCEPro), a grass roots coalition of ophthalmologists, optometrists, and opticians.

He is the a past President of the New Brunswick Association of Optometrists in 2000-2002, before which he served as the Registrar of the New Brunswick Association of the Optometrists from 1997-1998.

Dr. Naugle was part of a large group practice in Moncton, New Brunswick, that was one of one founding groups of FYidoctors. In 2017 he transitioned full time to the FYidoctors leadership team and is the executive sponsor for the Future Vision Leaders Program supporting the next generation of Canadian optometrists.
---
Episode Notes

EWO host, Dr. Roxanne Arnal talks with Dr. Michael Naugle about the challenges facing Optometry today, with a focus on those faced by the newest generation of ODs.

Dr. Naugle outlines how the Future Vision Leaders forgivable loan program is tiered by location providing an up-front loan of up to $100,000 which is forgiven by $20,000 for each year the recipient is with FYidoctors. He outlines eligibility and how the program is tiered based on geographic location.

Dr. Naugle breaks news regarding a new collaboration with New England College of Optometry (NECO) which supports 3rd and 4th year Canadian students with a full forgivable loan to cover 3rd and 4th year tuition.

He provides concrete examples of how the "doctor-owned – doctor-driven" DNA of the company has lead to providing superior patient care through the unusual acquisition of diagnostic tools for members.

Dr. Naugle explains how the traditional binary roles of owner/manager or clinician has been expanded at FYidoctors to accommodate different perspectives for ODs at all stages of career development by adding options that include leadership without ownership and ownership without the burden of management – an innovative and flexible approach.

Listen to the full 29 min. podcast for further insights into the FYidoctor story and evolution.

Resources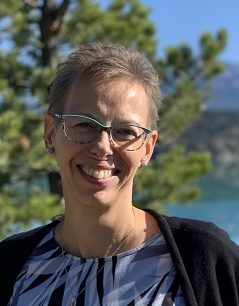 ROXANNE ARNAL,
Optometrist and Certified Financial Planner
Roxanne Arnal graduated from UW School of Optometry in 1995 and is a past-president of the Alberta Association of Optometrists (AAO) and the Canadian Association of Optometry Students (CAOS).  She subsequently built a thriving optometric practice in rural Alberta.
Roxanne took the decision in  2012 to leave optometry and become a financial planning professional.  She now focuses on providing services to Optometrists with a plan to parlay her unique expertise to help optometric practices and their families across the country meet their goals through astute financial planning and decision making.
Roxanne splits EWO podcast hosting duties with Dr. Glen Chiasson.