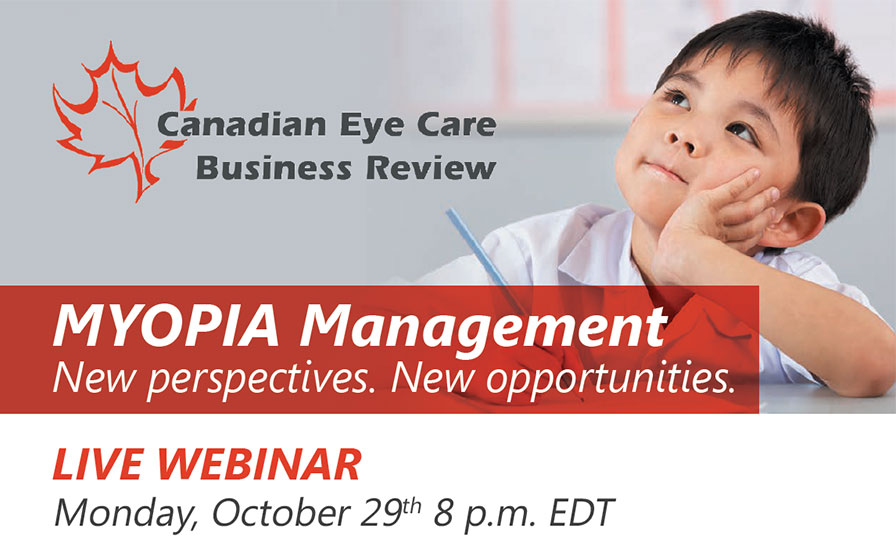 Canadian Eye Care Business Review and Clinical & Refractive Optometry are pleased to announce a COPE approved (2 credit hours) live CE webinar on Monday, October 29 at 8 PM (EDT):
Myopia Management:  New perspectives. New Opportunities.  
Registration for the webinar is now open.
COPE Course ID: 59812-GO      Qualified Credit: 2 hour(s)
Speakers and topics for the webinar include
Scott Mundle, OD, President, World Council of Optometry
Debbie Jones, FCOptom, DipCLP FAAO, CORE/Univ. of Waterloo,

Myopia Management from Research to Clinical Practice 

Jeff Goodhew, OD, Chief Co-editor Canadian Eye Care Business Review

Myopia Control in Practice 
Myopia can no longer be considered a benign condition. It must be addressed as a potentially sight-threatening treatable disease.  Dr Mundle will share the WCO perspectives and plans for a global Myopia awareness week in 2019. All optometrists will understand the coordinated effort toward raising awareness of Myopia as a treatable condition. Dr. Debbie Jones,will review some of the interesting research and clinical studies, and Dr Jeff Goodhew will provide pointers on how optometry can integrate myopia control to patients in the optometric practice.
Presentations will be followed by a panel discussion. Dr. Farrah Sunderji, Calgary, Alberta and Dr. Thomas Gosling, Colorado will join in a panel discussion moderated by the hosts Drs Tina and Jeff Goodhew.  Questions from the audience will be addressed.
The webinar is made possible through the generous support of CooperVision Canada,  Carl Zeiss Vision Canada and HOYA Vision Care.
Pacific University, School of Optometry is the COPE sponsoring organization and administrator for this course.