Dr. Robert Allaway is the Chief Optometry Officer of Vision Alliance, a new exit strategy option founded by Ken Barbet, former Eye Recommend CEO.

Robert is in private practice in Salmon Arm, BC where his practice has expanded over the years from a single location to three locations with four partners and two associates.

He was on the Board of Directors of Eye Recommend for 12 years.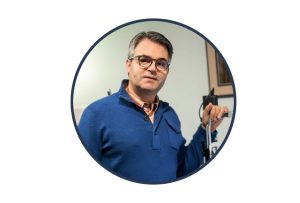 Dr. Robert Allaway
Optometrist
Optometry, University of Waterloo
Chief Optometry Officer of Vision Alliance
Where do you see your practice / eye care in 10 years?
I graduated in 1996 from U Waterloo and there really aren't many things that have stayed the same in our field since then.  Technology has changed our role from GATHERERS of data to INTERPRETERS of data.  I expect that this trend will continue which will lead to better patient care and, hopefully, an increase in our scope of practice.  On the business side of things, we will be facing increased pressure from outside forces so we will be need to evolve our business model or risk becoming obsolete.
What changes do you see in eye care coming down the pipe?
The recent move towards specialization within optometry will continue I think.  Vision Therapy clinics, Dry Eye clinics, Low Vision clinics, etc. will become even more prominent – either as a stand-alone model or as a 'clinic within a clinic' model.  There will always be a market for traditional optometry but alternative models will become more common.
What is something you have done in your practice to set you apart?
It sounds somewhat cliché by now but we really focus on creating a great experience for our patients.  Great service is the new norm so it's critical that you go beyond that if you want to stand out and earn the trust of the patient.  We have found that the best way to create a world class experience is to establish an excellent culture within the practice.  Take care of your team and they will take care of your patients.
What advice would you give a new grad today?
I speak with optometry students every year as part of my Eye Recommend and Vision Alliance duties and their biggest concerns seem to be related to the business side of optometry.  All of the OD schools do a great job training the clinical side of our profession but most of them fall short in the business education area.  I HIGHLY recommend that new grads (or OD students) find a good mentor who is willing to help educate them.  Join a group and take advantage of the networking opportunities or reach out to an expert who can guide them through the difficult patches.  There are literally thousands of us who have owned a practice – no need to make all of the same mistakes that we did.
Last time you laughed?
Laughter is a huge part of my day.  I laugh with family, with my team, and with my patients.  Laughter makes everything better.
If you had a time machine what year would you travel to and why?
Well, at this point I would have to say that I would travel back to early 2019, go to Wuhan, China, and persuade them to test everyone for a new Coronavirus.
Describe your perfect day.
Sunny spring day (warm but not hot, no bugs yet); drive my restored 1983 Land Cruiser into the bush with my wife and dog; long walk in the mountains; ride my bike home; cook a great meal for my family and enjoy it with a great craft beer on the deck overlooking the lake.  Actually, that was yesterday.