Roxanne Arnal originally hails from Winnipeg, Manitoba

She is a past-president of the Alberta Association of Optometrists and
the Canadian Association of Optometry Students (CAOS)

Roxanne successfully grew an independent Optometric practice in Alberta before leaving the profession to become a Certified Financial Planner® focusing on optometrists and their families' financial requirements.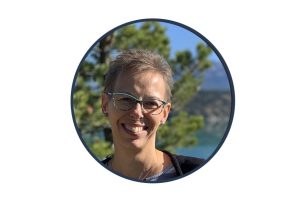 Roxanne Arnal
Doctorate of Optometry from the University Of Waterloo (1995)
Certified Financial Planner®
Why did you choose your field?
I always wanted to be a doctor and learned early in undergrad that medicine and medical school was not a lifestyle I wanted. Helping people and teaching has always been a natural tendency of mine. If I had not gotten into Optometry school, I was going to become an accountant. So I guess it's really no surprise that I'm a financial planner. Helping people, educating them, and using numbers…this is what I was created for.
What is the biggest struggle in your career?
Helping people understand that not all financial planners are the same. Unlike optometry, there is no title protection, no title requirements nor clear definitions. It really is alphabet soup of credentials which ultimately  leads to increased public confusion. Most of the professionals I speak with don't really understand what I am able to bring to the table and the breadth of service I offer. I have a very unique skill set and am well groomed to be your family CFO.
What is currently the most exciting thing in your field to help patients?
Tax integration. Very few professionals have a current and comprehensive grasp of building tax efficiencies for today and their future. Integrating your business and personal finances within the Canadian tax system is the geeky fun of planning work I love.
What is something you have done in your practice to set you apart.
I specialize in optometrists. We are a unique and highly educated bunch, who spend most of our days in a little dark room. Having lived through the various stages of practice, I understand the opportunities and pitfalls.
What advice would you give a new grad today?
You've lived the past several years as a student, so treat yourself to a little grad gift, then continue to live like a student! You'd be surprised how quickly you can pay off your student debt with this attitude. Yes, you may be able to write off your loan interest, but it's a devil on your back that feels much better to shed as you move forward and build your business ownership.
Always give patients no less than you would give your mom (assuming you love her).
And – purchase your commercial space as soon as you can. You have to pay rent anyways!
What do you believe is the key to success?
Love people! Take a genuine interest in their lives, listen to their concerns, and help them to the best of your ability.
What is your favourite saying?
"You don't know what you don't know – until it's too late." We all make mistakes, some more costly than others and I made my fair share. The more I learned in my new field, the angrier I got about all the missed information I didn't get from my advisors. I am determined to ensure my clients don't have to learn the hard way by answering the questions they didn't even know they should have asked.
If you could take one album, one book, and one luxury item to a desert island, what would they be?
Adele 25 – Hello? Lots of quiet time for me to convince the local wildlife I sound as good as her!
Think & Grow Rich by Napoleon Hill – an older book, but lots of content to keep you thinking and tips to tap into your imaginary friends for company.
My bed – because a good nights sleep is essential to reset my attitude.
What is your favourite TV show/Netflix series?
Grey's Anatomy – I'm not sure why.
Suits – probably for the same reason I like Grey's
Last time you laughed?
All the time, but most of those wouldn't be funny to anyone else. But the other night we were attending a virtual Wine Tasting event hosted by our local Co-op Liquor Store. Really, a good excuse to drink 3 bottles of wine on a Friday night in quarantine.
Using an open zoom meeting format, you get to "enjoy" everyone else's experience too. Now you have to understand, we live in rural Alberta, so watching the various screens is really only a bit more elevated than an Optometry School Wine & Cheese event.
I'm not sure how our sommelier, Amy, manages to maintain her professionalism. Wine number 3 was paired with a salami, and the instructions go like this: "Take a sip of your wine, now eat the sausage and tell me what's going on in your mouth?" My husband, Ken, had to step off screen. Enough said.
Last Indulgence?
Glass Sculpture from Murano, Italy.
What is your favorite food?
I'm a foodie – new and interesting. We are currently expanding our vegetarian menu, but my top comfort foods will always be pork ribs and beef stew.
What was the last gift you gave someone?
Nerf guns – last family gift to open at Christmas held 4 Nerf guns and a package of extra bullets. The battle ensued. It was such a blast.
How have you changed since high school?
I'm more cautious. A wise man told me "it's because I have more to lose now".
Something few people know about you?
I LOVE puzzles. Especially traditional piece puzzles and number puzzles. I just love figuring out how all the pieces fit together. Just like a good financial plan, I love picking apart and looking at all the different pieces to find the best way they fit together and create the perfect picture for my clients.
If you had a time machine, what year would you travel to and why?
2000 – the year our first child was born. I love babies and would love another chance to raise her. And I wouldn't hire a nanny this time (that didn't happen til 2003 mind you).
Describe your perfect day.
Sightseeing on a clear sunny day in Europe with my family & our optometry travel group. Ending the day with a 10 course chef's table tasting menu with full wine pairing.