Dr Riaz Ahmed is the founder of Mission Eye Care located in downtown Calgary, AB.

Since opening his practice in 2005 he has shifted more towards medical eye care

with a special focus on Dry Eye treatment and Corneal Disease management.

Riaz is the Past-President of the Alberta Association of Optometrists,

and does charity eye care mission with Canadian Vision Care.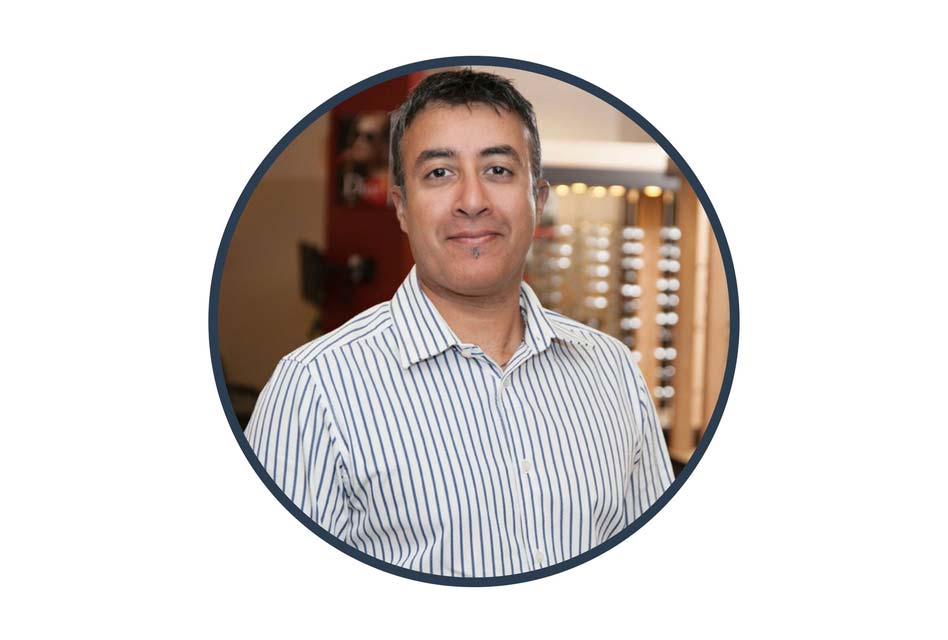 Dr. Riaz Ahmed
Optometrist
B.Sc., University of Alberta, 1993
OD degree University of Waterloo 1998
Mission Eye Care
Calgary, AB
Where do you see your practice / eye care in 10 years?

I look back at how I practiced optometry after graduation, and how I practice it now, almost 20 years later. It has only been in the last few years that I can truly say I practice the way I want to. For years we had been over-educated and under-utilized relative to our role in eye care. We are fortunate here in Alberta to now truly be able to practice primary eye care profitably and effectively. I do much more medical eye care relative to routine exams and I foresee this to continue to increase over the next decade. I see greater efficiencies through new technologies. With more patient encounters, comes more opportunity to present products and services, further fueling revenue that ultimately fund more practice building technologies. Our public and private reimbursement model along with scope changes have allowed us to stay profitable and I see this continuing to evolve. Quality medical eye care is something that patients' value and trust, and I think it is our best way to survive and thrive despite further disruptive changes in the retail landscape.
What changes do you see coming down the pipe?

I see online refractive exams improving to the point of being reasonably accurate. The new iphoneX already promises to revolutionize 3D facial mapping, and with that will come better frame "fit" options, whether 3D printed, made to order, or a selection of mass market frames that will fit your face perfectly. The consumer values convenience, and optometrists will have to offer value beyond retail eyewear sales in order to make consumers take time out of their day to seek our services. I foresee our role continue to evolve as interpreting data rather than gathering it. Wearable health tech is in strong demand, and consumers will likely have a treasure trove of health data sitting in their phones, much of it likely relevant to us. Companies are already evolving contact lenses to both display data to the wearer, and gather it from them. I see the demise of the traditional exam lane, and a role for optometrists in a consultative environment with technologies different from those that will soon be ubiquitous at the consumer level.
What is something new you are implementing this year in your practice?

More in the way of myopia control. As a high myope, I am truly excited that there are now evidence based options for my patients (and my genetically doomed kids). We are already well established as a corneal disease /specialty lens clinic, so with increasing patient awareness of myopia control, I will be implementing more strategic marketing in this regard.

How do you define success?

My definition would be working because you want to, not because you have to. As a first generation immigrant with poor parents, my story is the same as many others. Like Drake says "started from the bottom…". Going through school, I always equated success with wealth, and to some degree I was right, but I was wrong about what wealth actually is. Having passed my mid-life crisis (some would argue I am still in it), I now see that wealth is a combination of time, family, gratitude and health. Yes, being financially free gives you time, but to me, it is how you use that time that determines success.

Favorite Series?
Yes, I am late to the party but I finally started binge watching Game of Thrones. Call it FOMO, but I had to see what all the fuss was about and I was hooked at episode 1. Since I am terrible with names, I also look at it as a training exercise. I mean who can seriously keep all these people straight? Good thing they keep getting killed off.
Favourite food?

That's easy – being born in East Africa, our family loved spicy grilled food. There is a place in Calgary that grills the most AMAZING Indo-African spiced short ribs. They are cut super thin and are the most delicious spicy and tangy carnivorous treat on the planet. I'm actually going to stop writing this and go get some.
What's changed since high school?
Well, I am still quite nerdy, but I shaved that awful moustache I sported in grades 10 and 11. I would have had no chance at a prom date in grade 12 if I hadn't (chances were slim regardless). Funny that all that facial hair now made a comeback, I would have been like super trendy by age 12 (in case some people don't know, East Indians are hairy). 
Tell me something you thought was true only to find out later you were wrong?

When I was younger, I looked at all "doctors" with awe and respect. To me, they were miracle workers that had some superhuman level of knowledge and skill. They always had the right answers, somehow guided by a higher power. To then go through school and see classmates (many of whom I thought were less than the sharpest tool in the shed) go on to practice some aspect of medicine was truly devastating. To think, all this time, I too could have had a moron for a doctor! Alas, we are all humans with the same level of infallibility and ineptitude as the general population. A sobering truth indeed, and one that constantly pushes me to be the kind of health care provider that I would want to have.