Dr. Paul Gray is a partner in a large multi-doctor practice in Halifax, NS.
Paul has been active within the profession of Optometry, having
served as the President of the Nova Scotia Association of Optometrists and as
the chairman of the board of OSI (Canada's largest group of Independent Optometrists).
Outside of eye care, Paul is extensively involved with the competitive motor sports community as
a driving instructor and a competitor.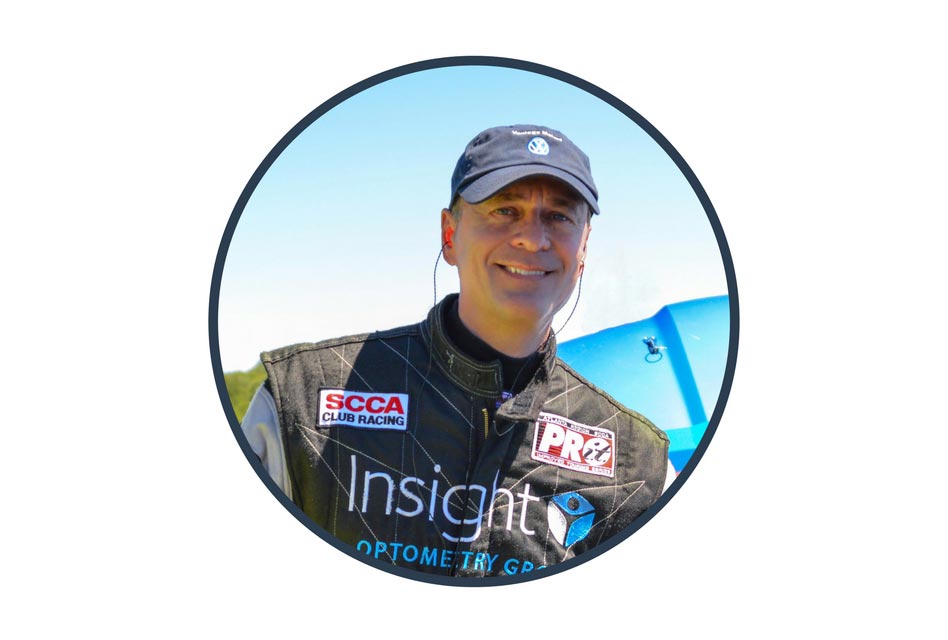 Dr. Paul Gray
Insight Optometry, Halifax, NS
Doctor of Optometry, University of Waterloo, 1980
What business books would you recommend other ECP's read?

Who Moved my Cheese, by Spencer Johnson and Kenneth Blanchard. This little gem is required reading for many of our docs/staff in our practice.  It's a timeless business classic which uses a simple parable to reveal profound truths about dealing with change. At the risk of generalizing too much, it's my sense that many ODs are less than forward thinking or proactive in their approach to change. Too often I witness reactionary strategies to trends that have clearly been established while growth or differentiating opportunities are lost. While I don't consider myself an innovator, I would at least fall in the category of an early adapter and I believe that has served our practice well over the years.
What metrics in your practice do you use to gauge your success?

We have always used a variety of factors to help us in decision making and gauging the financial help of our practice.
As a member of OSI multi-services group, we utilize very capable Optosys 2 software for our EMR. The continued development of this software application has, in recent years included a KPI (Key Performance indicator) module which allows numerical and graphjcal analysis of the key indicators that Optometrists need with just keystrokes. It's been a very helpful addition to our management. Some of the many things we track on a "per doctor basis" include:
all sales numbers
total patients, new patients/previous
production booked
No shows
Contact lens fits/new old
Conversion rate to in house dispensing
Multiple eyeglass sales, sun Rxs
External Rx's sales from other eye docs
$$ generated per patient seen for full evaluation
all revenue generated for specific instruments (OCT, fields, topography, etc )
How do you hire new staff? What is the process and who does the hiring in your office?

New hires present from a variety of sources, and are generally internet-based as initial point of contact.  Our staff also act as ambassadors to source employee possibilities when they meet people in various environments who they think might be a good "fit" for our office. Potential employees are directed to our website to click on our application process. This is designed to screen out those who don't necessarily aspire to our environment and are simply casting a broad net to secure employment that may/may not be a good match for them. We use a 3rd party group for this but it's viewed as seamless through our web portal.  The current tool we are using is called "Talentsorter",  (no financial disclosures) which assists in titrating our choices more specifically and helps determine a "fit score" for a given employment postion. Should a potential employee continue the application process (thus authenticating ambition/genuine interest) they are then contacted by a key staff member by phone.  We consider this initial touch point by phone as an important part of the interview process and current staff utilize a check sheet to judge phone manner, voice clarity, enthusiasm, use of the language, etc.  Based on the outcome of initial contact, 2 separate interviews are done at our office, the second one involving our office manager. Finally, the potential staff member is invited to spend a day with us to interact with their potential co-workers and understand the sort of environment they could become part of.
We tend to hire on attitude and "fit" versus specific skill sets for at least some of the positions in our clinic. Once a new staff member has competed their initial weeks, I will typically meet with them and do a more formal "doctor welcome" to get to know them on a bit more personal level, promote the concept of easy accessibility to management/docs, and share practice philosophy toward patient care. I invite them to take advantage of their opportunity to observe current "systems" through fresh eyes and to be comfortable suggesting better ways to do things should they have experiences that may assist our team.
Favorite past-time / hobbies?
I have had the privilege of being very active in the motorsport community earning National and International race licences with many podium finishes in over 400 competition events. These included a wide variety of open wheel, closed wheel, open cockpit race cars on dedicated road courses or street circuits. I have taught performance driving and race schools on a volunteer basis for almost 30 years.  Other passions include downhill skiing, martial arts, golf, sailing, and guitar.
Tell me something few people know about you?
I spent most of my childhood in the First Nations Cree community of Moosonee, Ontario.
What was the last gift you gave someone?
For me, when I'm able, it's often the gift of time…working on a friend's farm helping harvest a crop, repairing a barn, swinging a hammer.  Agreeing to welcome yet another Optometric intern to our practice. Listening… when needed.